Shopping in India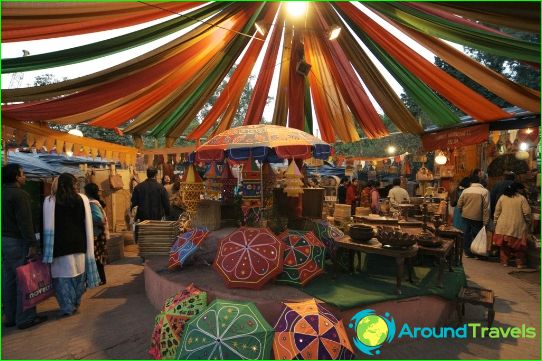 India - a country of tea and a movie. Country elephants and tigers. The country is beautiful temples and scenic resorts. A country with a rich history and ancient civilizations. It combines slow pace of monks and beating energy key business centers. Unique original culture of India makes shopping from a simple deed of sale in the introduction to the wonderful world in which the old is closely intertwined with the present. And no matter what you bought - you will long remember the smell of incense in the commercial shops and the eyes of the Hindus-old - the personification of luxury East and its wisdom.
In shops and markets need to be traded -friendly happy customers are going to meet, but in shopping malls fixed prices. The famous Indian Old Monk Rum is best purchased in duty-free.
The most affordable market - in Delhi, stillIt affects a huge number of competitors. You should try to choose a place closer to the city center - quality products and lower prices. Chandi Chowk - a shopping street with a lot of alleys - the oldest trading place in the city, and each lane is specialized in the sale of a single product. Here is an opportunity to buy antiques. This differs and cosmopolitan Bombay. His "flea market" Chor - truly a paradise for lovers. Maze of streets just overwhelmed with all sorts of exotic rarities.
By the way, Indian products are environmentally friendly. Despite modernization, many manufacturers have not abandoned the traditional processing of raw materials and therefore ubiquitous hand-made paper, clothes, toys, kitchenware, shoes, furniture, carpets, even the lampshades made of clay or paper.
So, what you can buy in India?
Tea. Tea growing in India traditional occupation. Grow it in the highlands and valleys. Specialized shops offer it in stock. Green much more expensive than black. With tea you can buy exotic orange honey collected in Cherrapunji.
Tissue. Cashmere - superfine wool known since the times of the Great Silk Road. Varnas - one of the largest centers for the production of sarees - anciently famous for amazing brocade - silk woven with silver or gold threads. Today she is in demand on the world market are not only designers, but also from the leading manufacturers of expensive furniture. Amazing silk various manufacture produce across the country. Some known bright colors, others - soft gentle shades, but all use natural dyes and traditional dyeing methods. Very high-quality cotton fabrics: bright and tight cotton - Rajasthani; thin, painted in the technique of hot dyeing - from Madras. Two years ago, it banned the export of cotton for an indefinite period, but this applies to cotton. With the removal of the tissue should be no problems. Everywhere you can buy himru - cotton-silk blend. In the markets or handicraft shops you will find unique handmade fabric, with embroidery, beaded, stones. There you can order a custom-tailored traditional Indian attire. In the shops they are, but factory production and at a lower price. Continuing current sales.
Furniture. Indian furniture is executed in traditions, it is very high quality and valued around the world. It is very difficult not to succumb to the charm of carved tables, chairs and chests of Rajasthan and Gujarat, painted and inlaid objects, screens and cabinets from Kishangarh, comes, Ramgarh and Shekavati that will adorn any interior. They have a vintage feel, a pleasant smell and a great power that has preserved the warmth of the hands of masters. Special judges are buying even doors.
Wood products. Also there are plenty of furniture carved souvenirs of fragrant tree species - Karnataka offers sandalwood, Kerala and Madras - rosewood, Kashmir - Indian walnut. Figures elephants, Buddha statues, boxes and caskets for jewelry, bracelets and pendants, and, of course, the famous Indian chess.
Carpets. As the fabric rugs striking variety: silk, lace, cotton, wool, bamboo, woven, felted, braided - from Kashmir, Radzhstana, Darjeeling, Tripura and Bengal. Carpet weaving - is another national pride, raised from the craft to the rank of art. Museums of the world consider it an honor to have samples of Indian carpets.
Jewellery. Jewellery and India are inseparable from each other. Jewellery is worn by all. Even the animals - elephants, horses and camels - to decorate necklaces and bracelets. Buy is because precious metals are much cheaper than in Russia, and much more original design. there is a "golden markets" In any big city. Dariba Kalan - jewelry in a place already known to us Chadni Chowk. Silver jewelry beautiful and high quality. Rajasthan - one of the traditional centers of jewelry art. There are products easier - with enamels, there are more expensive - with stones - you can even order. The stones are unique - Indian emeralds, rubies and star topaz, diamonds and aquamarines. Pearl fishing has brought world fame Hyderabad. Andhra Pradesh and Orissa are known filigree, and from the north carry the traditional decorations for the hands and feet. In Assam offer earrings and necklaces made of soft gold, and in Nagaland - jewelry with shells, teeth and claws of animals - a kind of amulets. Traditional naravatna - this ornament with the combination of nine different stones, designed to provide you with the protection space, protect against disease and maintain vitality.
Musical instruments. Favorite items to create exotic interiors. The most popular among tourists traditional Indian sitar and tabla. An extensive range of other tools are available in Varnas, in Tamil Nadu - Chillum (clay pipes), and for the objects of Tantric Buddhism is better to go in the foothill areas - Ladakh, Sikkim, Dharamsala, Manali. There you will find Tibetan bells, ritual drums and conch. There you can buy knitted socks, capes of wool and a lot of warm clothes, made by the hands of Tibetan monks.
Leather products. Choice is great, the quality and the price is varied. Leather clothing, national shoes with beaded embroidery and inlay, traditional vessels for water and seat with a stunning finish, suitcases, bags, gloves, belts and straps, bracelets, key rings - for every taste, all over the place. In any major city there are shops specializing in leather goods, leather abundance of detail as well and in the markets.
Incense and cosmetics. Being in India and bring incense - it does not happen! All cosmetics and aromatherapy authentic, inexpensive and sold everywhere. Essential and cosmetic oils, incense sticks and stands for them, coconut milk, various powders and essences, as well as the famous henna and Basma.
You need to know that it is forbidden to export ivorybones, skins of reptiles and wild animals and their products, live plants, artifacts of an ancient 100 years of historical or cultural value. Penalties for violation fines and even arrests.
Photos of Indian goods, shops and markets