Holidays in India in December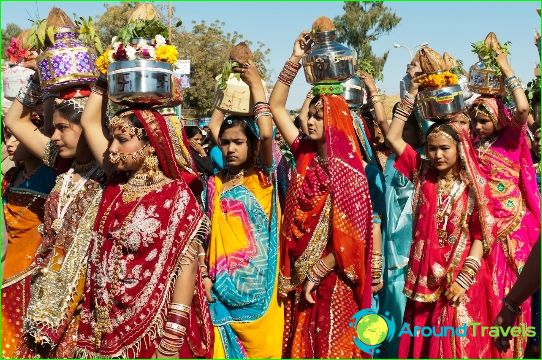 December is recognized as one of the best months fortours in India. Velvet season in this state falls on November - February. In October, the monsoon rains cease, and in December, the weather becomes perfect. In the cities of northern India has a pleasant climate and fresh nights and days with high temperatures, but without the sweltering heat. In southern India, where the cold and is not too warm climate prevails, ideal for relaxing.
Goa Resort
If you are interested in vacation in India in December,consider a vacation trip to Goa, because this is the best resort. Just imagine: clear skies, low humidity, a temperature of 28 to 32C, the cool sea breeze. However, be prepared for the fact that the weather would be not so bright as we would like, because December is still considered to be in the winter. You will see the sparse vegetation and palm trees with faded leaves. Despite these unpleasant facts, the benefits of holiday in Goa enough.
You can get acquainted with one of the most unusual and interesting cultures and religions around the world.
The tropical climate is pleasant always, so you can note many benefits of rest.
Fresh fruits and vegetables will help to diversify the menu and enjoy a delicious meal.
Vintage attractions crave lovewith you. Try to go on a trip on a rented bike and visit the most attractive places in India. Do not deny yourself the pleasure!
Shopping may be saturated. In Goa, there are numerous small shops. Many tourists buy handicrafts.
Holidays in Kerala
Holidays in Kerala in December can also beinteresting and rich. The monsoon period has ended, with the result that set pleasant weather. The temperature is from + 19-21C (on average) to + 30C (maximum). Monthly rainfall is only 60 - 70 mm.
She recognized as the most idyllic Kerala state in India. Tourists can enjoy a beach holiday and the study of culture, taste exotic dishes and even decide on Ayurvedic treatment. This period of life certainly will be remembered for a long time!
Would you like to know India? Plan your trip in December, because this month is ideal for an exciting journey.
Photos vacation in India