Holidays in India in November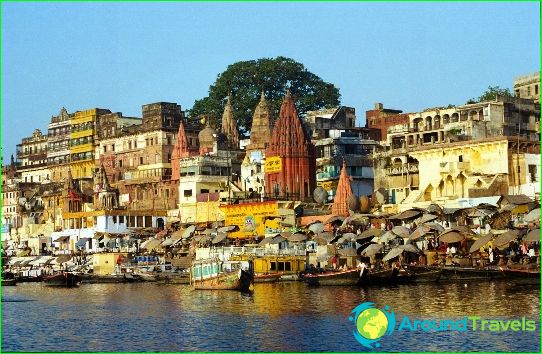 While in other countries, especially in Europe, November- It is already late autumn, in India the most favorable time for this month. There is no longer summer monsoon rains, except in some states in the south, there is no sweltering heat that summer for a real test of the Europeans. Daily temperature, for example, in the capital of a maximum rises to 28-29 degrees. If you are planning to visit the Himalayas, the ski season there opens in December. But the state of Goa - a paradise for tourists.
Comfortably be in the states of Andhra Pradesh, Kerala,Tamil Nadu, but there will continue to precipitation, and daytime temperatures up to 27 and above, at least at night, 22-23 degrees. Therefore rest in India in November - it's gorgeous beaches, amazing in its beauty bays and lagoons, mangroves, which can be on a boat to go on an exciting journey, the fascinating world of exotic birds and animals. Watch the wildlife is best if you have the program will be a safari in a certain reserve, a tour of the jungle or river cruise. Why are only some pink flamingos, not to mention the trained elephants, whose performances are also worth a visit.
The Goa is different from other resorts
The infrastructure here at the highest level. Who likes to drive, fun and noisy discos, hot dances and rest all night long chosen the northern part. Everything is geared specifically for youth tourism. And those visitors who go on holiday with children, older couples who want to relax in peace and comfort, prefer to spend their vacation in the south. There are places where you can perfectly sunbathe, swim in the sea, diving or surfing. Arabian Sea at this time pretty comfortable - 28 degrees, so it will suit literally everyone. There are Ayurvedic centers, which are popular with Europeans. This small state of many cathedrals (Buddhist and Hindu) have Christian churches and Portuguese forts. In short, there is, what to see and where to go.
What is worth visiting in this country
There are so many interesting things that can beconfused by the abundance of excursions offered. If possible, visit on the tour, which is called "Golden Triangle", which includes a visit to the capital and cities such as Agra and Jaipur. In India, it held a lot of events and noisy festivals. If November is necessary on the local calendar to Kartik, then you are lucky twice, because in 5 days the country is immersed in a festival of "Diwali". This nightly fireworks and dancing, magnificent processions. In different cities organize celebrations of different gods, but they all celebrated the victory of good over evil black. And conduct various festivals in November.
Konark city - Festival "Odyssey", which brings together the best masters of dance from around the country.
State of Maharashtra - the festival, where you can listen to classical music.
Rajasthan State Fair is held, which lasts 12 days. Where concerts, various performances, camel rides and a variety of souvenirs from all over the country.
Lucknow: At the end of the month there is also fair with performances by musicians and dancers.
To avoid unnecessary expenses, reserve for recreation advance in November, because closer to high season prices traditionally rise.
Photos vacation in India