Airports Indonesia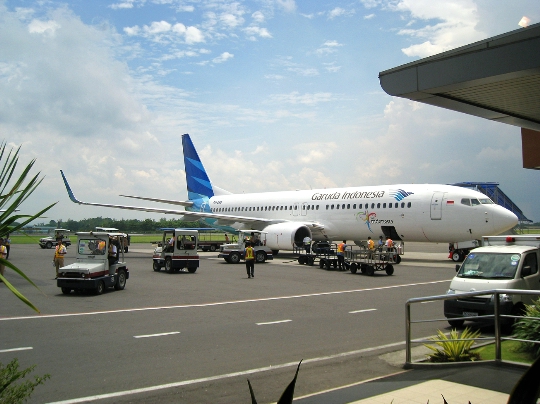 Located on the islands of Indonesia hasimpressive list of air ports, taking several dozen planes on international flights from around the world. All airports in Indonesia offer well-developed infrastructure and a set of services that allow passengers to feel comfortable while waiting for departure.
Russian tourists prefer to rest onresorts of Bali, where the domestic flying "Aeroflot". To get to the paradise beaches are on the wings of Singapore Airlines and Thai Airways via Bangkok and Singapore, respectively. The journey time by direct flight is 12 hours, with connections - for an hour or two longer, depending on the route.
Departing from the international air port travelers have to pay a fee in the amount of 200 thousand. Indonesian rupiah received only in the national currency.
The international airports in Indonesia
The right to take international flights are more than a dozen airports in Indonesia. Foreign tourists usually use the services of a few:
Metropolitan area and the city of the island of JavaIndonesia serves the airport Soekarno-Hatta Jakarta. His second and third terminals are designed to work with the international airlines. Russian passengers can get to Jakarta on the wings of Etihad Airways, Qatar Airways and Emirates over Abu Dhabi, Doha and Dubai and the Europeans - KLM and Lufthansa with a double connection in Amsterdam or Frankfurt and Kuala Lumpur. Terminal 2 offers free Wi-Fi. Transfer to Jakarta is possible by bus, otpravlyuschihsya of the arrival area in Terminals 2 and 3. Airport Website - www.jakartasoekarnohattaairport.com.
On the beaches of the island can fly LambokFlights from Jakarta or Denpasar Garuda Indonesia aircraft and Wings Air. International flights in the schedule of the Indonesian airport appear only from Singapore and Malaysia. Transfer of passenger terminals available on buses and taxis.
Resorts Kalimantan - the ultimate goalpassengers, landed at the airport in Balikpapan them. Sultan Muhammad Aji Suleiman. In addition to communication with other regions of Indonesia, this air harbor offers regular flights to Singapore and Kuala Lumpur on Air Asia wings.
Island favorite gods
The Russian tourists Denpasar airportdelivered to the board of "Aeroflot" and seasonal charter planes. City where the Ngurah Rai Airport, located in the south of the island of Bali and the airfield from the center of Denpasar is separated 13 km, and from the beaches of Kuta resort - only 2.5 km away. They can be overcome by taxi or ordering a transfer to the selected hotel.
The international terminal of the airport of Bali has a shapethe letters L and its territory passengers are available restaurants, duty free shops, banks, children's playgrounds, and massage rooms. 62-hour reception will avoid queues even in the peak season.
All the details - on www.ngurahrai-airport.co.id site.
Photo