Beaches Indonesia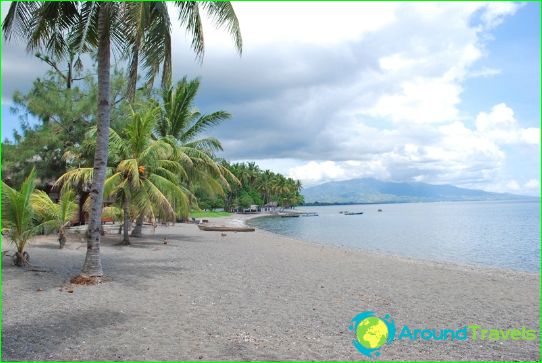 The Indonesian archipelago - the largest in the world,it consists of 5 islands and 30 smaller archipelagos. Leisure on these islands offers quite a large range of activities for everyone. You can sunbathe on the beaches, active forms of recreation, walks to volcanoes, the jungle, to see a lot of wild animals. From March to September in Indonesia dry, but from November to March it rains. Near the hotel there is any banner warning of the tides.
Beaches in Indonesia - it is a picture of the advertising chocolate bar: blue sky, linen sand, clear water and many trees.
Bali - the most popular island. His name is associated with romance, tranquility and expanse of the Indian and Pacific Oceans. All the beaches are completely different. For example, on Kuta Beach, strewn with golden sand, vacancies need to take in the morning, at the local shopping and entertainment industry compensates for tightness. Jimbaran is famous for its sunsets, sailing and fishing. Sunbathing is also possible here. Sanur Beach shallow, quiet and cozy, so here is better to go with the kids.
Sumatra is considered to be a paradise. Here are the best sandy beaches of Indonesia, the purest mountain lakes and nature reserves. Parapat resort is considered one of the most luxurious resorts in the world. Here you can enjoy the warm ocean waters and sunbathe on the gentle sun.
Java - one of the largest islands of Indonesia. It is called the heart of the archipelago and the island is considered a mystery. In addition to hundreds of volcanoes, jungle, temple Borobudur, here is crystal clear water of the ocean, comfortable place to rest, hot springs and a disco on the beach. In addition, the island's capital - Jakarta - practiced in full quad biking, safaris, diving, trekking.
Nusa Menjangan Islands and are famous not only by warm ocean waters and cozy beaches. They attract both fans of extreme sports - here there are all conditions for diving and surfing.
Flores Island will attract you with its chicsunsets, gentle ocean breezes, romantic nature. Blast off for a moment of sweet bliss and be sure to visit the colorful lake with volcanic origin.
Indonesia is certainly fascinating. Anyone who has ever been in its beaches and enjoy the views of the islands, will want to come back.
Photos beaches of Indonesia