Best Resorts Indonesia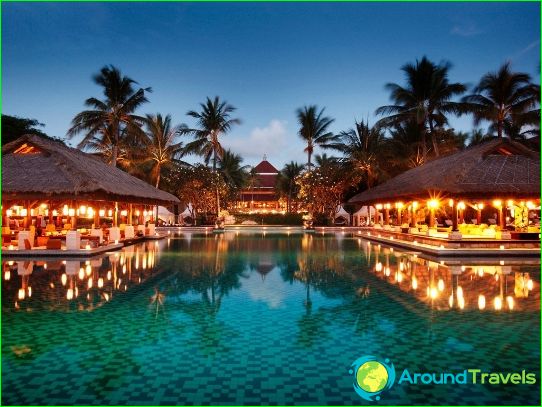 For the first time we decided to visit Indonesia? Then be prepared to listen to local tour guides rather pompous legend about the appearance of the island. Bali has been created by the gods "for its own use", but later decided to open the celestials and its people. Probably why the best resorts in Indonesia offer truly divine holiday.
Lovina
Quiet and somehow homely resortplace, located in the northwestern part of Bali. Kalibukbuk Village serves as the center of the resort. Here it is most of all the hotels, as well as nightly entertainment and the main resort. Sand beach in Lovina have a black color that looks very original in the background of lush greenery and azure ocean waves.
Coastal waters are very calm, so thereabsolutely ideal conditions for a popular among tourist fraternity snorkelling and diving. On the beach there are several small bars where igaret live music and guests can play billiards. Quite often organize local restaurants in the evening, where the Balinese dancers perform.
Not far from the city are hotBanjar springs, surrounded by lush vegetation. The local waters are very comfortable temperature, and take local baths are not just useful, but also very nice. It should be borne in mind that in the water contains relatively large amounts of sulfur. Therefore, the smell in the baths are not too pleasant. However, to it quite quickly get used to.
Batam Island
The island territory is divided into severalresort areas, offering hotels of all categories. This modern complex with its own golf clubs, and budget hostels. The most expensive resort Batam - Nongsa. It is located on the same peninsula. The main category of tourists - residents of Singapore. The most "star" hotels and restaurants can be found here.
The island's capital, the city of Nagoya, does not shinearchitectural delights, or interesting places to visit. But here's incredible the number of shops, cafes and restaurants as well as discos and night bars where you can heartily sing karaoke. Accordingly, the most lively nightlife takes place in this place Batam.
I prefer an active pastime? Then you need to go to the Waterfront. It is here tend to get fans of water sports and night discos.
But not only the beaches attract tourists. Bridges Barelang - one of the main attractions of the island. Also worth a look in Malay villages and appreciate the beauty of the Buddhist temple.
Activities in Indonesia
Photos Indonesia resorts