Diving in Indonesia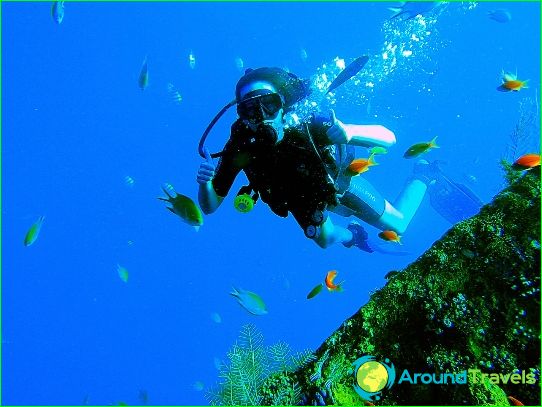 Diving in Indonesia, especially in the island's watersBali, in no way inferior to the beauty and complexity of the dive sites located in other countries. The unique geography of the island offers simultaneous immersion in the waters of the Pacific and Indian Ocean.
Nusa Penida
The dive site is a coral reef, stretching vertically into the depths. The local maximum - 45 meters. Excellent visibility at depth and reaches 20 meters.
The reef is covered with coral gardens, where you canmeet and flowers are soft and graceful branches of hard corals. Nusa Penida chosen habitat large species of fish. Here you can also find stingrays gracefully soaring, large sea turtles and even sharks. For this dive site is characterized by a fairly strong currents, which can be very cold.
Crystal Bay
The dive site is ideal for beginnersdive. Visibility in these waters up to 30 meters with a maximum depth of 37 meters. When diving is recommended to use insulated lining, because the water is very cold.
Inside the bay there are no currents. The bottom is covered with coral gardens, which was chosen by numerous flocks of small fish. But in the depths of Crystal Bay is a high cave where sleep during the day hundreds of bats.
From sea creatures you can see angel fish just sheer size and the same acne. Besides these there live stingrays, tuna fish and surgeonfish.
Toyapakeh
The dive site is located north-west of the islandNusa Penida. Here there are constant current and rather deep - up to 37-meters. But at the same time the visibility is excellent and reaches 40 meters.
Toyapakeh goes to a depth of a steep slope,covered with blooming coral gardens. Tropical trifle literally captivated the entire territory of the dive site. Apart from these corals are still very much liked acne. Extremely attractive, this dive site makes constant change of inhabitants, due to constant currents.
Pura Ped
For this dive site is characterized by coastaldive, because they can present a strong sea currents. Pura Ped drops very deep - up to 50 meters. Coral Gardens site chosen home of a huge number of exotic fish: reef sharks, sea snakes and eels, manta rays and barracuda.
Attracts divers here is not only amazingly beautiful colorful reefs, but also a great night diving.
Manta Point
Quiet dive site, but at the time of the tides can be formed small eddies, which hinders entry into the water. Manta Point is recommended only for experienced divers.
From May to June, there is simply an invasionmanta rays that swim here, to find a girlfriend. Especially interesting to see how they are fed. Rays, their mouths gaping, swimming against the tide, capturing everything that gets there. These sea creatures are extremely curious, so sometimes approach divers.
Photo