Traditional cuisine in Indonesia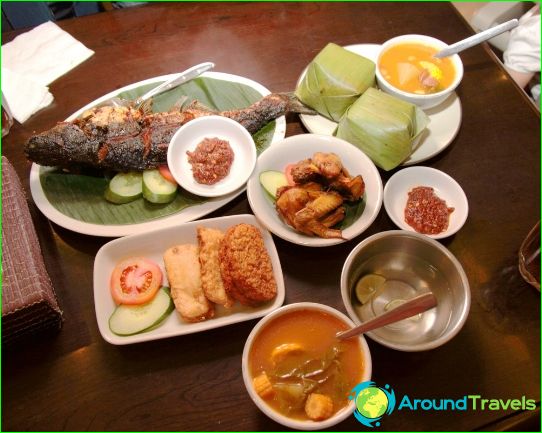 Meals in Indonesia is characterized by the fact that the Indonesian cuisine is moderately spicy: local dishes for flavor add the garlic, ginger, fresh turmeric.
Food in Indonesia
In Indonesian cuisine was influenced by Indian,Dutch, Portuguese and Chinese culinary traditions. Diet Indonesians consists of rice, noodles, seafood, fruit, vegetables, herbs.
Rice - a product so widely among the local population that it is cooked steamed, fried, and are prepared with green peas, spices and oil.
In Indonesia, it is worth trying marinated meatchicken; barbecue chicken in soy sauce; goat meat, roasted on a spit; soup spiced beef (rawon); noodles with meatballs cooked in chicken broth (bakso / baso); vegetables with peanut sauce (gado-gado); Patties with potatoes and meat or vegetables, deep-fried (perkedel).
Where to eat in Indonesia? At your service:
rumah makan, warung, restoran (local café where you can get cheap food, is not very diverse);
cafes and restaurants where you can enjoy a selection of Indonesian and other cuisines (Chinese work here, European, Thai, Korean, Mexican restaurants);
kaki lima (mobile stalls and trays that can be found in any Indonesian city and the village side of the road: here you can buy noodles, rice, and cereal at low prices);
International fast-food restaurants (McDonalds) and local networks (Noka Noka Bento, Es Teler 77, Bakmi Gajah Mada).
Drinks in Indonesia
Indonesians popular drink is mineral water, fruit juices, milk, tea, coffee, rice wine, beer.
From soft drinks in Indonesia worth a try cocktails and tinctures made from cinnamon, almond, peanut, glutinous rice, coconut and other local products.
Beer lovers in Indonesia will be able to try the popular local varieties of beer - Bali Hai, Anker, Bintang.
Buy alcohol in the country - no problem, but, for example, the wine can only be found in the bars at the larger hotels or at expensive restaurants.
Gastronomic tour in Indonesia
Gourmets can enjoy in Indonesiaexotic food in the form of fried locusts, Swallow's Nest, cooked with chicken broth, frog legs in the test, shark fin soup, cuttle fish with a side dish of rice and greens.
Since many dishes sharp enough, then they will be served sweet tea with ice or cold water.
If you decide to spend your holidays in Bali, you can sunbathe on the beach, wandering through the jungle with a guide or conquer the mountain, and in the evening - to taste the culinary delights of the local restaurants.
The trip to Indonesia will give you the opportunity to combine active and passive beach holiday, as well as to get acquainted with the local cuisine.
Photos national Indonesian dishes