The islands of Indonesia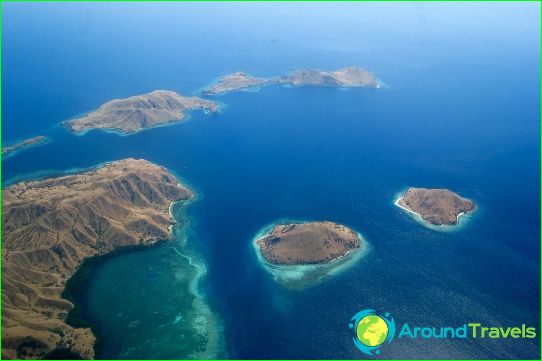 Indonesia Islands form the world's largestarchipelago. In total there are over 17 thousand islands, many of which are uninhabited. Each island has its own characteristics and attractions. But they all differ exotic nature and beautiful beaches. Indonesia is the island of the Malay Archipelago and the western part of the island of New Guinea. The territory of the state is washed by the Indian and Pacific Oceans. On the island of Kalimantan land border pass, which separates Indonesia from Malaysia. On the island of New Guinea, the country borders with Papua New Guinea, and on the island of Timor - East Timor.
The Republic of Indonesia is the fourth in the worldlargest population. The country is known, above all, thanks to the excellent resorts. The largest island of Indonesia: Java, Sumatra, Kalimantan and Bali. They are popular with tourists, as they have all the conditions for quality recreation. The most famous was the island of Bali, where it is always lively. It is a volcanic area of ​​land with a population of about 3.1 million. Man. Not far from the island of Bali is Lombok. There are fewer tourist facilities, more space and wild beaches. In the north of the island is a mountain of Gunung Rinjani, which is seeking to conquer many travelers. Most respectable place Indonesia - Jimbaran and Nusa Dua.
A little history
Check the islands of Indonesia began 45 thousandyears ago. The earliest settlers are considered representatives of the Negroid race. They are subsequently occurred are the Indonesian people, like the Papuans and the cube. The current population of the country is represented by Madurese people, Sunda and Javanese. Colonizers from Europe came to the islands in the 16th century. Their penetration due to the greater demand for herbs and spices that are abundant in this area. During the domination of the islands at different times rivaled the United Kingdom, Portugal, the Netherlands, Spain. Indonesia gained independence in 1945,
Climatic features
The islands of Indonesia are located in the wet,equatorial climate. On some islands the climate is sub-equatorial. The air temperature in the lowland areas is about 26 degrees. small temperature changes with the seasons. In mountainous areas at high altitudes sometimes freeze. On the islands of high humidity (not less than 80%). In Indonesia, there is a rainy season between December and April. At this time, there are showers and thunderstorms. The dry season lasts from May to November. This seasonality is associated with the change of the monsoon.
Photos of Indonesia Islands