Kitchen Indonesia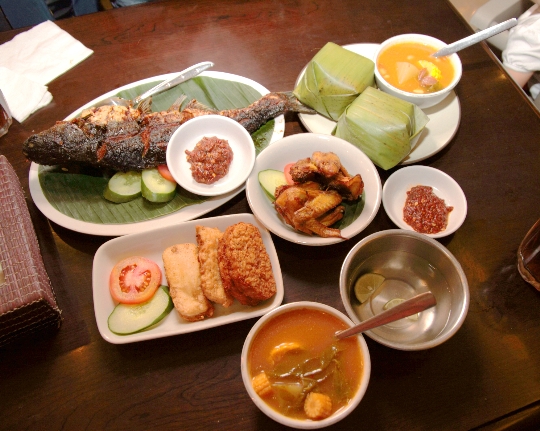 Kitchen Indonesia - a reflection of the culinary richesdifferent peoples and tribes living on the islands of that State (a noticeable impact on Indonesian cuisine have Chinese and Indian culinary traditions).
National cuisine of Indonesia
Indispensable local product - rice (usuallycooked in banana leaves or broth), preparing, usually insipid that he acted as a garnish, tinted and highlighted the taste of the main course. In addition, the translucent rice noodles do, chips, pudding, variety of pastries (the course is rice flour). And, for example, in Eastern Indonesia, in addition to the popular rice cereal, sweet potato, sorghum and beans.
Indonesian cuisine involves the use ofcondiments and sauces, often acute: dishes are seasoned with nutmeg, red, black and white pepper, soy sauce and ginger, cloves, garlic, tamarind and others.
almost do not prepare dishes from Indonesiapork, but you can always eat fish, baked in a banana leaf, smoked mackerel, tuna sauce, swallows' nests in the chicken broth, the soup of shark fins.
Popular Indonesian cuisine:
"Nasigoreng" (a dish of fried rice with vegetables, which can be added to meat or seafood, as well as hot and spicy seasonings);
"Gado-gado" (salad with vegetables and peanut sauce);
"Sotobandzhar" (soup with chicken, rice noodles, vegetables and eggs);
"Rendnag" (a dish of beef, braised in coconut milk);
"Bebek Tutu" (duck, seasoned with spices before cooking which is wrapped in a banana leaf).
Where to try Indonesian cuisine?
In Indonesia adopted a right hand (forwashing hands before meals and after, fed special pitchers with lemon water), but in a pinch, you can use a fork and spoon (there is a ban on the use of knives in the meal). Visiting authentic restaurants, it should be borne in mind that you will be served cold water or sweet iced tea, so you can wash down spicy food.
On the island of Bali (Kuta), you can satisfy your hunger in"Kori Restaurant & Bar" (in an institution guests are served skewers of shrimp, crab and squid, seafood, grilled), in Jakarta - in the "Bumbu Indonesia" (to dine at this restaurant, it is advisable to engage in booking a table in advance, guests are offered feast on giant prawns with chili sauce), on the island of Lombok (Senggigi) - in "Warung Paradiso" (in this restaurant, built of bamboo, you can feel the local atmosphere and serves Indonesian dishes as seafood, fried rice and noodles, and Visitors will be delighted even icy beer and freshly squeezed fruit juices that are sold here at very reasonable prices).
Cooking classes in Indonesia
Travelers interested in the nationalkitchen, invited to the "Bumbu Bali Restaurant & Cooking School" (Bali): then they will be offered to receive a memorable dining experience at the time of cooking and visiting the local market (with the chef you choose fish caught that morning, spices, fresh fruit and vegetables).
The trip to Indonesia is recommended to coincide with the holding of the fashion and gastronomy Festival Jakarta Fashion and Food Festival (Jakarta, May-June).
Photo