The population of Indonesia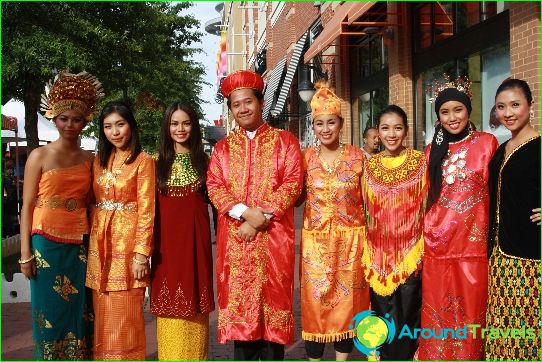 Indonesia's population of more than 250 million people.
Because the numerous islands of Indonesia for Allits history been a place where all sorts formed principality and kingdom, the population of the country has always been presented Balinese, Javanese, Malay and other marginalized groups.
National composition of Indonesia represented by:
- Javanese (50);
- Sundanese (14%);
- Madurese people (7.5%);
- Malays (7.5%);
- The Chinese (3.5%);
- Other nations (17.5%).
On average, 132 people living on 1 km2, butdensely populated, such as Java and Madura. On 1 km2 lives here more than 800 people. With regard to the sparsely populated areas, then this area is the province of Irian Jaya (population density - 4 persons per 1 km2).
Official language - Indonesian (BahasaIndonesia is), which is a mixture of Malay, Chinese, Indian, English and Dutch languages. Also common are the English and Dutch, as well as various local dialects (the most popular - Javanese).
Big cities: Jakarta, Tangerang, Bekasi, Bandung, Surabaya, Makassar, Semaramg.
Residents of Indonesia profess Islam, Protestantism, Catholicism, Buddhism, Hinduism.
life expectancy
The average Indonesian people live to 68 years of age (men - 65, women - 70 years).
The main causes of death are yellow fever, hepatitis, traffic accidents and malaria.
Traditions and customs of the inhabitants of Indonesia
In Indonesia, like fun to celebrate the holidays. So, here it is colorfully celebrated Independence Day - it is accompanied by a carnival. And a special scale mark the Hindu New Year in Bali.
In Indonesia, celebrated not only the big festivals, but also small, which are dedicated to tribal rituals and life of village communities (they are in the form of festivals).
Locals Indonesia prefer to show their feelings and thoughts through music. In this regard, many folklore works set to music.
As for crafts, the Indonesian thriving silver and gold embroidery, decoration fabrics with precious stones, special braiding.
If you are thinking in Indonesia, remember the traditional rules of conduct:
- Do not touch someone else's head (the head of the people - is sacred);
- Do not Kiss and violently hugged in public (this may offend the sensibilities of others);
- Take your things and serve the right hand (left hand is considered "unclean");
- Do not take photos of people who pray (all the people of Indonesia like to be photographed, but before you take a photo, ask their permission);
- In a bathing suit and no shirt can appear only on the beach.
Photo