Shops and shopping centers in Kuta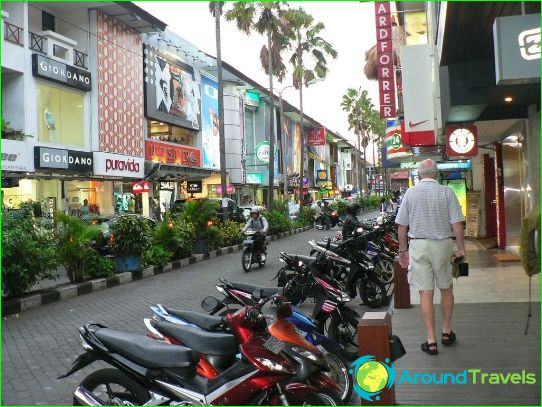 Kuta - once a simple fishing village onBali, and now the place partying surfers and all those who somehow has to them. Young people come here in the off-night clubs and enjoy a very tall waves on the sandy beaches. Accordingly, the goods in local stores are designed for this contingent of tourists. They need equipment and sportswear. A hot climate is conducive to the production of summer clothing and lingerie from the finest cotton. Such clothing is no different respectability, but in hot climates is valued above all the coolness and comfort for the body.
Popular outlets
Hypermarket Carrefour is the same nameFrench network. Located on Sunset Street. Specializing in essential commodities: fresh meat, fish, fruit, pastries, ready meals of local and European cuisine - all to maintain forces in Chasing Mavericks. In addition to the products sold here summer beachwear, creams and other cosmetics, household products and even electronics.
Bali Gallery - local mall with clothes andEuropean factories, household goods, electronics, souvenirs and mandatory equipment for surfing. For the rest provided fountain, coffee shops, pizzerias. This is one of the first shopping center of the resort, so it gives the size of the later Discovery Mall. Located on the street. Bypass Ngurah.
Discovery Mall - a huge shopping mall,It located next to the five-kilometer beach. It sells sportswear, surfer, in particular. Regarding sportswear, we note that firms such as Nike, Reebok, Adidas otshivayut products in Indonesia, so that such acquisition is very favorable. A lot of very cheap clothes Indonesian firms. Points catering are also available. To replenish food stocks in a rented bungalow or hotel room at the mall provided a hypermarket.
Geneva - souvenir hypermarket occupies wholethree floors. Needless to say that the range is huge. The first floor is allocated to furniture and souvenirs given to the other two. Indonesian souvenirs different beauty and elegance, as well as quality. Prices are low, so it is difficult to suppress the desire to fill them all the free space travel bags and decorate the house, give away to friends. The range of interesting dishes from light woods and coconut beads, beads, photo on the cover with the herbaria, costumes, magnets, keychains. Most European tourists tired endless need to bargain. In this store you can relax - the prices are fixed, often lower than those of street vendors. Located at Kerobokan Street.
Evening market, near the intersection ofJalan Legian and Jalan Patimura. It can be called the market of ready meals. Where you can dine in the café or buy Indonesian dishes for dinner in a refuge. In the tradition of Indonesians dine at inexpensive cafes, so that in this market there is an opportunity to get accustomed to the local population.
Photos of Kuta shopping