Traditional cuisine of Iran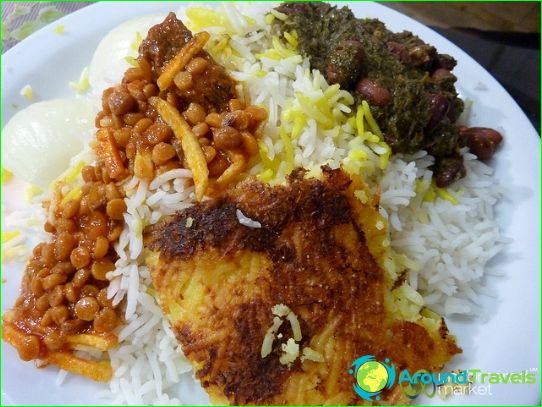 Power in Iran is characterized in that therefew institutions focused on foreign tourists (menus, as a rule, written in Persian, and local food is different from Europe), but, nevertheless, the national dish - not sharp, not greasy and very diverse.
Food in Iran
The Iranians diet contains fruits, vegetables, herbs, rice, meat (poultry, lamb, lamb), dairy products and beans.
Iran should taste of meat with vegetables, rice andpeanut sauce ( "brow-Horesh"); rice with the addition of almonds, raisins and oranges (the dish is sweet and sour taste and is called "sex-Cirino"); lamb with rice ( 'chilo-kebab "); rolls and kebabs based on lamb or beef; beef stew with the addition of eggplant, nuts, cardamom and pomegranate juice ( "fesendzhan"); veal tongue, seasoned with various spices ( "Zaban"); Kefir cold soup with mint, cucumber and raisins ( "Mast-o-hiyar"); a thick soup made from wheat, beans, lentils, spinach, peas ( "Al-e-Gandov"); Salad on the basis of cauliflower, egg and saffron ( "goal-Qalam").
A sweet tooth will be delighted by cookiesnuts (walnuts, almonds) and spices, fruits, Faludi (local ice cream from crushed ice, lime juice and pistachio), walnut halva, baklava, raginaka (sweet walnuts), sharbat-lima (sorbet with lemon), vanilla ice cream rose water and cream ( "bastani-akbarmashti").
Where to eat in Iran?
At your service:
- European, Japanese, Chinese and other restaurants;
-sofre-hane (restaurants with national cuisine);
- Snack bars and outdoor cafes (here you can order sandwiches, shawarma, pizza, rolls);
- Kebabnye.
The country has few national restaurants, tea andhookah, so there is not easy to find a decent place to eat. But, finding the right restaurant, you can be sure that there will feed you for the day.
Drinks in Iran
Popular drinks Iranians - tea with saffron,coffee, arcs (fermented milk drink based on yogurt with mint flavor), fruit juice (watermelon, lime, barberry), cocktails and non-alcoholic drinks, including "Fanta" and "Coca-Cola", non-alcoholic beer with fruit additives.
Iran is forbidden to drink alcohol, so there are no places where the sale of alcohol is carried out openly.
Gastronomic Tour in Iran
Having made a gastronomic trip to Iran, youYou will be able to go to a party at the Iranian family. In addition to the national dishes, you can taste all kinds of baked goods here in the form of cakes and pastries. And when visiting national restaurants, you will be able to try a variety, hearty and delicious Iranian food.
Going to Iran, you can see the historical monuments, sacred places, archaeological sites, palaces, as well as to get acquainted with national delicious meals.
Photos of National Iranian dishes