Tourism in Iran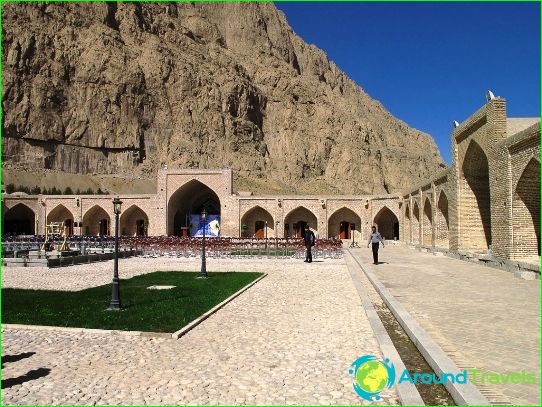 The former Persia in the views of many tourists -It is a beautiful country, surprises with azure sky, domes and national jugs glitter gems that were owned by shahs, and openwork ligature ancient inscriptions, soft silk carpet weaving patterns.
Unfortunately, due to recent military eventsTourism in Iran has made a huge step backwards. Many travelers do not want to risk their lives by choosing to explore other, more secure countries of the East. Bold discoverers opened the country's most beautiful landscapes, fine cuisine and striking beauty of art objects of ancient and modern masters.
Respect yourself and hosts
Iran presents to its guests a pretty serious claim, smoking areas are very small, alcohol is also not held in high esteem, the exception is only for tourists.
The second important point - a definite wardrobe. Putting on the veil, of course, no one, however, requires dress with long sleeves and maxi-length in women-tourists are required. The same applies to the length of the pants and sleeveless shirts and men.
Living in style
Iran is ready to provide for two types of hotel accommodation of tourists. Some of them are quite usual for a European block houses, with rooms furnished modest and monotonous.
The second part of the hotel built in the traditionalIranian style - a caravanserai. Travellers who chose this type of accommodation, there is a complete immersion in the history, architecture and culture of the country, not even leaving the room. Book accommodation should advance, though guests arriving to the country are not so many, but poor choice of hotels.
Art - a gift
A stay in Iran and leave the gift is impossible. Choosing gifts of ancient Persia and modern works of art masters huge. Only masterpieces of metal, wood, fabric, china. None of the women did not abandon the multicolored tippet, colorful scarves, bedspreads or porcelain service decorated with the finest ornaments. This men's gift - chasing, quite worthy of the shah or king.
Another tourist's dream is becoming a reality, and inluggage it is carefully packed real Persian rug. Complexity is only one - how to choose a masterpiece of the many options that have different colors and sizes. The same fully applies to gold jewelry, has its own Iranian highlight - an elegant combination of gold and turquoise Nishapur, in front of such a gift can not stand no beauty.
Photo