Airports in Iraq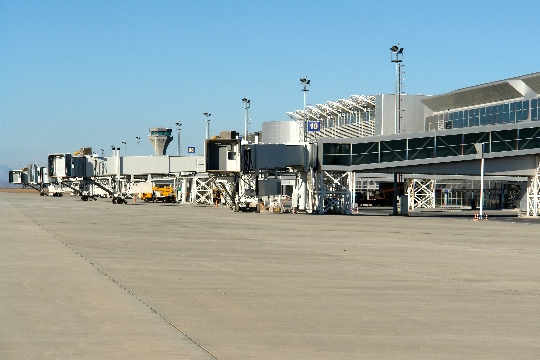 The Republic of Iraq in the Middle East - nottourist destination. Military conflicts and political instability make the country very dangerous to potential travelers. Iraq Airports operate in a limited time and changes in the schedule of flights are possible at any time.
Russian citizens can get to IraqWings Egypt Air via Cairo, Etihad Airways via Abu Dhabi, Pegasus Airlines transplant in Istanbul and Qatar Airways with a connection in Doha. The journey takes around 6 hours.
The international airports in Iraq
Among Iraq's status as international airports have three air harbor:
The main air gateway of the country are located 16 kilometers west of the Iraqi capital. The international airport in Baghdad, is home to the local airline Iraqi Airways.
Considered the second largest international airport in Basra. City, where the airport is located in the south-east of the country.
In Iraqi Kurdistan in the north of the state running third Erbil International Airport.
Transfer of passenger terminals bestcarried out with pre-booked transport from the selected hotel. Independently take a taxi or use public transport in Iraq may not be safe.
metropolitan area
Opened in 1979, Iraq Baghdad AirportHe wore before the name of Saddam Hussein. In 2003, he came under the control of the US Army as a result of military operations in Iraq, and in 2004 was returned to the Iraqi government. At the same time the national carrier Iraqi Airways resumed regular flights to the Middle East, and then - in some European capitals, and Asian countries. Today in Iraq the airport in Baghdad regularly landing aircraft of different airlines:
EgyptAir connects Baghdad to the capital of Egypt.
Air Arabia operate regular flights to and from Sharjah.
Gulf Air flies to Bahrain.
Mahan Air flies daily to the airport of the capital of Iran.
Middle East Airlines brings passengers from Beirut.
Turkish Airlines is sent to Istanbul.
Spare airfields
The international airport in Basra, Iraq was put intooperation in the 80-ies of the last century. Gulf War caused the suspension of civilian flights out of this air harbor until 2004. The first flights were resumed only in domestic flights, and Basra to Baghdad route joined the national airline.
The current state of the airport is able to receive aircraft from other countries, and those cooperating with this air harbor companies - Jordan, Turkey, Lebanon and Dubai airline.
The carrier Iraqi Airways performs regular flights from Basra to Amman, Baghdad, Beijing, Dubai, Beirut, Istanbul, Kuala Lumpur and Mashhad.
Boasting especially developed infrastructure this airport Iraq, unfortunately, can not, and passengers who have visited it, there were problems with sanitary conditions and air-conditioning.
Photo