Railways Iraq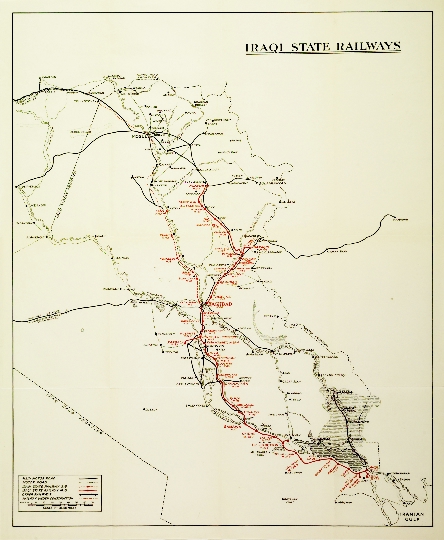 Railways of Iraq - it is more than 2,000 km of track. They are characterized by a standard gauge, which is equal to 1,435 mm. the rail system is operated by the company IRR. Paths cross the territory of the State from Basra to Baghdad, a branch road go to Mosul, Irbil and Akashata. transport system in Iraq was developed in the middle of the last century. State railway sphere has deteriorated as a result of wars. In 2003, it was completely stopped passenger traffic since the war began. Rail transport has once again started to function in 2008
Feature w / d sphere
In 1914 we opened the first line of Baghdad - Samarra. The length of the routes was 123 km. Today, the country is functioning rail, road and air links. During the war damaged transport infrastructure. Only main roads are in good condition. Secondary paths need to be repaired. Roads form the well-ramified network. In Iraq, there are international airports (in Basra and Baghdad). More than 100 airports used for servicing domestic airlines. The country supports maritime traffic using the port. The main ports are the Fao, Basra, Az Zubayr and Umm Qasr. Passenger come from Mosul - Kirkuk - Baghdad - Basra. There is a line in Erbil, which is no longer used because of the situation with the Iraqi Kurdistan.
Railways Iraq does not enjoy specialdemand among the local population. Most people prefer to travel by bus. Iraqi buses are deprived of facilities and in need of modernization. Departure takes place as required. Within the city, you can travel by taxi. Transport links with neighboring countries, Iraq supported by a train. It is associated with Turkey, Syria, Iran, Saudi Arabia. There is a line in Jordan, which is still used very little. In Baghdad, there is a metro station, built 20 years ago. Metropolitan developed well enough and does not work in full force.
Obstacles to development w / d messages
The development of the country's transportation system preventedperiodic hostilities. The main factor influencing the state of the rail network is the economy. She compromised, despite the fact that Iraq ranked second in the world in terms of oil reserves, behind only Saudi Arabia. The country has a poor infrastructure, low-efficiency public sector, low standard of living, a huge external debt.
Photo