Dublin Airport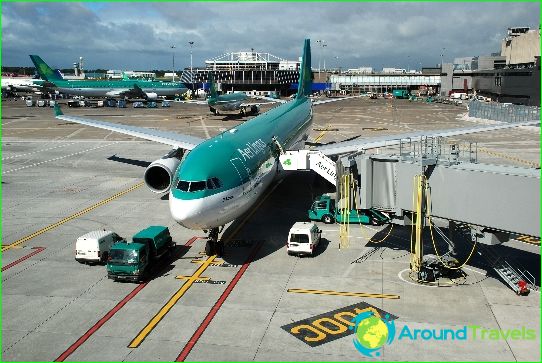 Head of the Republic of Ireland Airport isits capital, Dublin, to be exact, 11 km south of the city. Every year the airport served more than 23.5 million passengers - it is the busiest airport in the country. It is worth noting that more than 95% of the flights are international.
The airport is the main one for the Irish airline Aer Lingus, as well as the well-known throughout Europe, budget airline Ryanair.
History
The story begins in Dublin Airport since 1936year, that's when the airline Aer Lingus was founded. Then she flies from the military airport Bardanelle. construction of a civilian airport in the capital of Ireland was launched a year later. Already in early 1940 the first flight to Dublin, Liverpool has been made of the new airport.
During World War II, the airport was not used, the route was restored after 1945. In 1947, the increase in the number of runways, their was 3.
5 million line of passenger traffic for the year was achieved By 1970, the airport in Dublin. And by 2000 passenger traffic reached 20 million mark.
services
Airport in Dublin creates all necessary conditions for comfortable stay of the passengers inside the terminal.
Various cafes and restaurants will not go hungry any passenger. Also here there are shops, including duty-free.
Also available for passengers bank branches, ATMs, post office, currency exchange, etc. Also running Superior room, hotel, wired and wireless internet.
For passengers with children have a mother and child room. On the territory of the terminal luggage storage, a church and a chapel.
It is said that at the departure, using the services of some companies, you need to register yourself on the flight.
Transport
The most common way to travel from the airport in Dublin - bus. There are several types of buses traveling into the city:
Regular city bus route 41, 41b or 102. This is the cheapest way to get to the city, driving the price will be about 3 euros.
Bus Airlink №747 and 748. The interval movement 15 minutes, the fare paid by the driver and is about 6 euros.
Bus Aircoach - blue bus. The bus is designed for long-haul flights, the price of travel to Dublin city center will be about 7 euros.
It is also worth considering that many hotels offer free shuttle service, the availability of the bus should be specified when booking.
Alternatively, you can take a taxi. The fare is 40 euros.
Photos Dublin Airport