Traditional cuisine of Ireland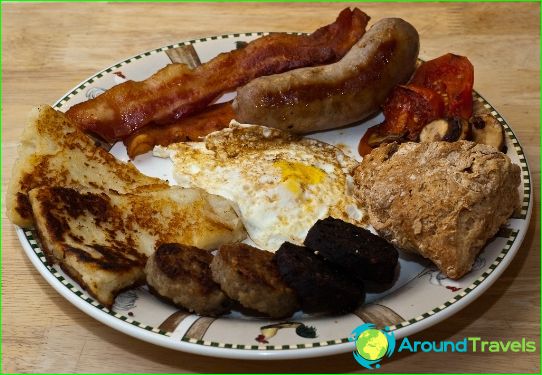 Meals in Ireland is characterized by the fact that the local dishes are delicious, simple and useful (they are made from environmentally friendly products), but eating at local establishments rather expensive.
If your goal - to save, the FoodPower advisable to go to the farmer's markets or supermarkets. If you do not want to cook yourself, then a snack at affordable prices you will be able to fast-food establishments and pubs (pubs for dinner you will be served grilled meat, vegetables and potatoes).
Food in Ireland
The diet of the Irish food contains meat,dairy products, vegetables, fish, seafood (lobster, shrimp, oysters, mussels). Locals often eat meat dishes, and many Irish cooks, according to the traditions of their ancestors, prepare meat over an open fire using peat instead of firewood.
In Ireland should enjoy mashed potatoesscallions (champ); Potato pancakes (boxty); lamb stew with potatoes, celery, onions and carrots (Irish stew); Soda bread; Seafood pie; fish pie ( "Seafood Pie"); braised brisket of lamb ( "Stu"); smoked salmon with vegetables; oysters with seaweed; corned beef with carrots; souffle of seaweed.
Where to eat in Ireland? At your service:
Restaurants with Irish, French, Chinese, Indonesian, Italian, Cuban cuisine;
Private family restaurant with good food at reasonable prices;
Irish pubs (here you can order soups, salads, sandwiches, fish and meat, lasagna and pies with various fillings);
Fast food and snacks self-service.
Drinks in Ireland
Popular Irish drinks - tea, beer, whiskey. Fans of beer should try Murphy's, Guinness, Beamish. It should be noted that the alcoholic beverages in the country are quite expensive.
Gastronomic tour in Ireland
Embark on a gastronomic tour of Ireland,you will visit the town of Kenmare (south-west of the country) - here, in the local restaurants, you can taste the crab cakes with balsamic vinegar, order the cheese plate and excellent fresh salmon baked in cream sauce.
As part of the gastronomic tour you will visit the cityCashel, where you try Irish blue cheese, as well as Dublin - here you eat potato gratin and cabbage, onions and spices, Adair Village - at local restaurants you will be served beef, goat cheese, potato croquettes and halibut, fried onion in butter.
If you are planning a trip to the gastronomic tourin the fall, you will be able to visit the culinary festival which is held annually in Kinsale - in the local pubs, you will taste the soup with seafood, lamb with spices.
Holidays in Ireland - it is a chance to seemedieval castles, fun in the clubs, active rest (diving, surfing, horseback riding, golfing), admire the original nature, enjoy good-quality cuisine with the famous stew.
Photos of Ireland national dishes