Cuisine of Ireland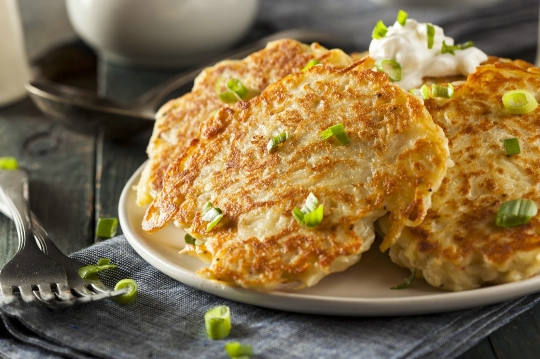 Cuisine of Ireland - it is quite simple, butunique cuisine that has managed to preserve his ancient Celtic recipes cooking. It is worth noting that today meat roasting process is carried out by many Irish cooks on an open fire (wood is used instead of peat).
National cuisine of Ireland
In coastal areas in high esteem fish (flounder,trout, salmon, salmon), and the rest - meat dishes. For example, in Ireland preparing smoked salmon with vegetables or Irish stew - stew made from potatoes, lamb, turnip, thyme, onion and cumin. As in Ireland, like all mixed, willows one pan can prepare sausages, potatoes, bacon and other ingredients you should look at the mix grill of lamb, Irish sausages and pork (they roast over an open fire).
Popular Irish cuisine:
"Dulce Champ" (mashed potatoes with red algae);
"Stew" (braised lamb breast);
"Krubins" (a dish, which is a boiled salted pork legs);
"Black and white puddings" (black puddingIt is a sausage with spices, pork skin, blood that fry and cut into round slices, and white pudding is prepared without the addition of the blood);
"Colcannon" (casserole of mashed potatoes, cabbage, onions and spices);
"Bram marriage" (fruit bread which is served with butter tea).
Where to try Irish cuisine?
Smokers travelers should keep in mind,in any public place in Ireland, including food establishments, non-smoking, and the ban is supported by hefty fines. Another important point - in the local restaurants to your account will be added 10-12% service charge.
Refreshments can be in Dublin in the "Queen of Tarts"(Here you can taste the dishes of national cuisine, including homemade cakes, fragrant pies with various fillings and delicious coffee), Cork - to "Amicus" (menu will delight guests a variety of Irish salads and grill, as well as the Chilean, New Zealand, Spanish, French wines), Limerick - in "Green Onion" (the Irish cuisine restaurant is open from Tuesday to Saturday).
Cooking Courses in Ireland
Those wishing to be invited to attend classes in cooking"Ballymaloe" school (Shanagarry, County Cork): here they reveal the secrets of the main Irish recipes and learn to cook a few dishes to choose from, such as seafood with mashed potatoes and shallots or fish pie (cooking course is designed for 5 days).
Visiting Ireland advisable to podgadatOyster Festival (County Galway, September), the Irish Festival Gourmet (County Cork, October), Food Festival "Dublin Taste" (Dublin, June), in which is arranged Fair "Taste of Chocolate" and tasting of local delicacies, chocolate, wine and beer.
Photo