Trip to Ireland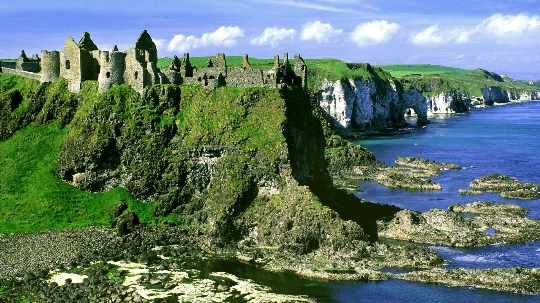 A trip to Ireland - a double-decker busgreen, left-hand traffic and sheep crossing the road in the wrong places. The roads are a great many signs speed limit and journey through this amazingly beautiful country by car or bus is much slower than trains.
Public transport
The main way to get around the city and between - buses. The route network covers most of the populated areas of the country.
In Dublin ride special buses: green double-decker cars. In addition to them in the capital, there is also a rail link, which connects the capital with its suburbs.
Bus tickets can be bought from the driver. In addition, the travel system is provided, acting as one day or one month. You can buy a ticket only for a few trips if you wish.
There is also a special rail and bus tickets that allow to travel the country and on buses and trains. As a rule, the validity of such travel in the average week.
Taxi
Taxis in Ireland are not found simply impossible. Black cab, known around the world, did not change the appearance of many years. Modern cars on the streets appeared relatively recently.
The fare is calculated based on the total distance and the time that has been spent by the driver to overcome it.
Aircraft
All the big cities of the country are linked. So you can go from Dublin to Shannon, Sligo, Cork and Galway.
You can go in if necessaryUK. Airlines offer charter flights to any city in Ireland, where there is a complex, while the airport. Service quality is not inferior to European companies.
Railroads
The situation with the rail is,that the train can reach any town of the country. The cars will surprise you with its clean and comfortable. The journey offers to go one of two classes: the first (super standard); second (standard). Trains are also represented by two classes: first class - standard; first class - superstandartny.
In Dublin, there is a high-speed connection. The line includes 25 stations. This is a very convenient way to travel around the capital, as it covers a large part of it, as well as the main territory of the suburb. Trains wish every 20 minutes, starting at six in the morning. Last flight - 23.45. Tickets can be purchased at any of the stations.
Water transport
On the ferry, you can get in the UK, France and the Isle of Man. Ferries from Dublin Port, Rosslare and Cork. The price depends on the vessel and klassnosti season.
In addition to the ferry, you can ride on one of the many courts. There are regular flights to almost all islands, located off the coast.
Photo