Saint Helena Island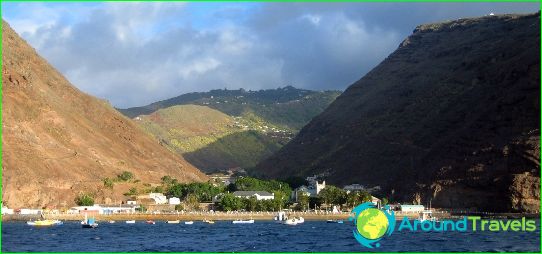 In the Atlantic, there is a smallan area of ​​land that is designated as the island of St. Helena. He was removed from the African continent to 2,800 km and is considered part of the overseas territory of Great Britain. Saint Helena first discovered João da Nova - Portuguese navigator. A small area of ​​the island is owned by the French - the place where he had been sent by Napoleon Bonaparte.
Today, the island is home to about 4thousands of people. The population represented sentlentsami, who are descendants of immigrants from the UK, the Netherlands, Portugal, India and Africa. The island has no airport, so you can get here only by sea from England or Cape Town.
Features landscape
Saint Helena has a volcanic relief. It is the top of an ancient volcano, so the landscape is sublime. The base of this enormous volcano is 130 km in diameter. Highest point of the island is considered to be the peak of Diana, reaching 818 m. It is surrounded by numerous plateaus, passing into the gorges and valleys. Upper floors of the mountains are covered with tropical plants. There were located the protected areas. Closer to the ocean tropics give way to plateaus and cliffs. The coastal zone - the area is rocky with high cliffs. Around the island there are coves, accessible only possible by sea. Jamestown City - the capital of the island, located in the valley sandwiched between mountains slopes.
Flora and fauna
On the island of St. Helena has formed a uniquenatural world, due to the isolation of the island. Previously, it covered the entire territory of the dense forests. Scientists over 200 ferns and flowering plants have been recorded, which grows only on the island. There were not found herbivorous and carnivorous animals. Saint Helena was rich in plants of the family Malvaceae: black dwarf tree and mahogany. The wood of these trees was considered very valuable because of its high strength. Therefore, the trees were completely destroyed by people.
Climatic conditions
The island is located in the zone of tropical seaClimate. In January, the average temperature is 19 degrees, and in July is 30 degrees. In winter the temperature does not drop below 13 degrees. The island is dominated by oceanic humid air. It observed the constant wind and fog. Therefore hearth seem cooler than it actually is. The wettest months of the year - January and December.
Photos of St. Helena