Airports Israel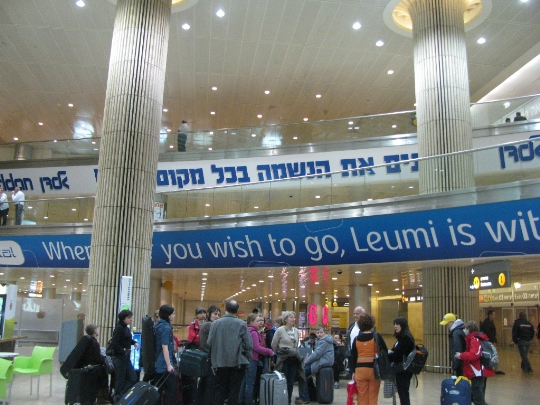 A great number of tourists annually visiting EarthPromised Land. Considerable interest in the historical and cultural heritage and sacred places show and Russian travelers coming into the country, mostly by air. Some of them prefer and beach holiday in Eilat, but because Israel's airports can always meet compatriots.
To get to Tel Aviv can be on the aircraft of Russian "Transaero" and Israel's El Al at any time of the year, and in Eilat just 4 hours of tourists take "Aeroflot".
International Airports Israel
The right to take international flights have two local airports:
Ben Gurion in Tel Aviv is famous for its specialsecurity measures. Be on the check-in is best for 3-4 hours before the scheduled departure time. Personal inspection of the passenger and baggage and frank questions - the phenomenon is more common than out of the ordinary. For more information visit - www.iaa.gov.il/Rashat/en-US/Airports/BenGurion.
The international airport in Eilat, Israel takestourists who decided to relax on the Red Sea. He called Ovda and is located 60 km from the resort. Transfer to Eilat carried out on 282 bus routes and taxi stand which is located at the exit of the passenger terminal. Ovda Airport receives flights from Moscow, Yekaterinburg, St. Petersburg, Paris, Amsterdam, Warsaw, Helsinki, Budapest and Kiev. Details of schedules are available on the site - www.iaa.gov.il/Rashat/en-US/Airports/Ovda.
For your safety
The international airport of Israel's Ben-GurionTel Aviv do not like to joke. It is famous for its special procedure for the passage of pre-control, which any passenger may be subjected to inspection. Do not try to interfere with the Secret Service employees or indignant routine - the time it does not save. It is best to plan for the arrival in the airport in advance of Israel.
The city center and the airfield share a 14 km and a shuttle service to Tel Aviv is possible in several ways:
By train. The train station is on the lower level of Terminal 3. From here you can go to Haifa and Tel Aviv on any given day and around the clock, except during Shabbat.
By bus. Stops are located at Terminal 3.
In a rented car, which is provided in the rolling several offices in the arrivals halls.
Spare airfields
Domestic flights to Eilat from Tel AvivIsrael accepts Airport, located a few hundred meters from the beaches of Eilat. Harbour Air has not too lengthy "Vzletka", but because international flights to its schedule appear only those that run a medium-sized aircraft. For sunbathers on the shore of the Gulf of Aqaba aircraft landing over the heads are extra fun and a reason to uncover the camera.
Israel Sde Dov Airport near Tel Aviv serves domestic flights from Eilat and not very popular among tourists.
Photo