Airport in Eilat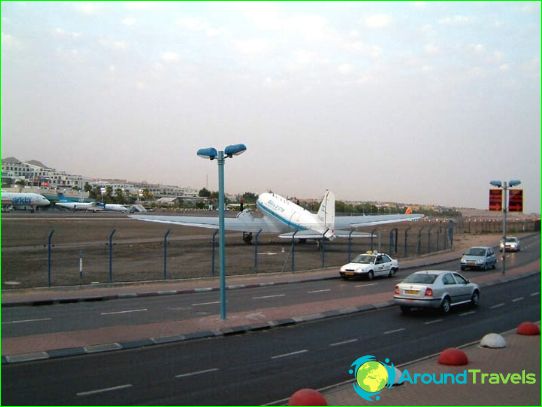 Airport in Eilat - the second scaleIsraeli airport located in the south of the same name in the center of the city of Eilat. Runway airline length of 1.9 km, reinforced asphalt and can accommodate, not all types of aircraft. The main activity of the airline aims to service passenger transport within the country. It regularly conducted flights to Tel Aviv, Haifa, Sde Dov. However, the aviation hub receives and sends international aircraft are small type. The main airport in Eilat carriers become Israeli Arkia Airlines, El Al, IsraEyr operating domestic flights. In the year that the airport serves more than one million passengers.
History
Eilat Airport was founded in 1949,completely from scratch when Eilat was still a small village. In the early postwar years, the airport has worked to establish air lines that connect it with other settlements of Israel in the first place with its capital - Tel Aviv.
Then we began regular flights fromAirport in Eilat at Lod Airport. Until the early 50-ies of the major air carriers were of Aviron and Ilta, and since 1950, all regular passenger service began to carry the Israeli airline Arkia.
airline Dawn came in the 60s, when, after a large-scale reconstruction of the runway and passenger terminal, has expanded the geography of flights, and increased the flow of passengers.
In 1969, the runway airportIt was extended. And in 1975, the airport received its first international flight from Denmark, made by the airline Sterling Airlines. Since that time, international flights to Eilat became regular.
services
Eilat Airport compact enough with a comfortablenavigation system. There are all conditions for comfortable passenger service. Provided the voice and visual information on the movement of aircraft, signage and informational announcements in two languages. There are racks of background information, including in Russian.
On the territory of the passenger terminal are offered comfortable waiting rooms, hotel, cafe, restaurant, lots of boutiques with cosmetics and souvenirs, open wine shops and food stalls.
Transport
From the airport in Eilat shuttle runs regularlybus, which runs through the central streets of the city. Many hotels arrange transfers to take tourists directly to the resort. In addition, you can order a taxi, ordering cars rack located in the passenger terminal building.
Photos Eilat Airport