Activities in Eilat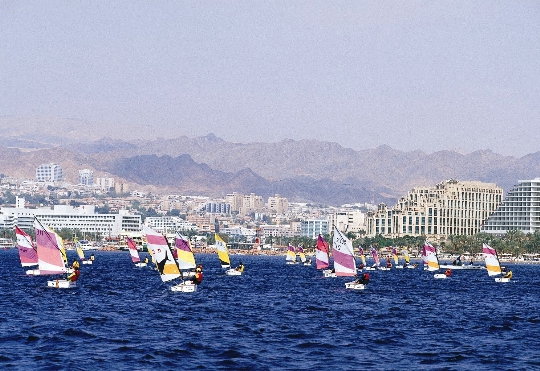 Entertainment in Eilat focused on snorkeling enthusiasts, windsurfing and scuba diving, hiking trails, rich nightlife.
Amusement parks in Eilat
"King's City": thanks to advanced computer technology, you can visit a fascinating journey back in time (theme park - Biblical) - here you will be offered to sail on a boat to the waterfalls of King Solomon, to walk through the caves, take part in competitions. It is worth mentioning that this park has 5 themed zones, and there are trampolines, slides, 3D and 4D-cinema (short films carry visitors in the era of the Pharaohs), race track, where you can ride on the electric machines.
Ice Palace "Ice Space": numerous guests then offer to skate, play hockey, to see the skaters, skate with ice slides, spend time in the cave with interactive elements, visit the workshops of arts and crafts, a snack in the cafe or restaurant.
What kind of entertainment in Eilat?
An interesting entertainment can become a visit Camel Farm - here you can not only admire the camels, and go to them (it may take a walk, a couple of minutes and a few hours).
Visiting the reserve "coral reef", you will be able to watch the dolphins directly from the water or floating bridges, scuba diving and admire the coral kingdom of the Red Sea.
If you are not afraid of anything and you are attracted tooriginal entertainment, visit the room of fear Nightmare: here you will need to pass through the virtual maze, where the path will meet the murderer and werewolves everywhere are heard screaming and imagining the blood (at the entrance offers to drink tequila and absinthe).
As for nightlife, the tour ispay attention to the "Touchclub" (in this place you can dance like a world hits, and Jewish music, and sample delicious cocktails) and "Club Elixir" (on Thursdays and Fridays the club pleases its visitors with a special program with the participation of famous DJs).
Entertainment for children in Eilat
Underwater Observatory: young and adult guests are offered a look at sharks, stingrays, sea turtles, see the reef pool and watch the process of feeding the fish and animals. It should be noted that the viewing rooms are located on the 6-meter depth. In addition, visitors can climb to the observation deck - then you will be able to enjoy the surroundings of Israel and the neighboring countries.
Birdwatching Center: here your child will be able to see cormorants, coots, grebes small, spur-winged lapwing, stilts and other rare birds. For those who want at the center arranged a demonstration, during which you can see the banding of birds, accompanied by commentaries of scholars.
In Eilat, you will have the opportunity to go on a sea fishing, jeep safaris, fun discos, lasting until dawn.
Photo