Areas of Haifa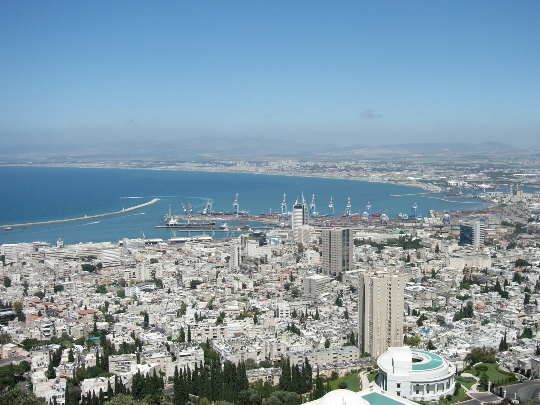 After reading the card, it can be concluded thatAreas of Haifa city is divided into several parts: the lower part is the business center of the seaside district sheltered harbor and beaches, and the average part - it's shopping district.
Name and description of the major areas of Haifa
Lower Town: Guests will visit the Museum of the railroad (will be able to admire the cars, locomotives, vintage carriages, see tickets, train schedules, referring to the 19th century), visit the skyscraper "Sail", a mosque and Muslim cemetery times of the Ottoman Empire.
Bat Galim: known clinic name Rambam (achieved high results in virology, neuroscience, oncology), beaches Bat Galim (appreciated by lovers of kite surfing and wind surfing, and even then open clubs surfing and diving) and Hof Shahet (men and women are bathed in different days and "common" day is Saturday), cave, acting as a cover for the prophet Elijah, burial caves dating back to the 18th century, the National maritime museum (guests waiting for inspection of old maps, navigation equipment, anchors collection, pieces of sunken ships and models of ancient ships ; all are exposed to about 7000 exhibits), a restaurant for vegetarians "Yotvata ba-ir" (hall can accommodate up to 400 people).
German Colony: travelers will find cafeterias and restaurants specializing in Mediterranean, Arabic, and other Far Eastern cuisines, and attractions in the form of settlement of the Museum of Haifa, Templars House, the lower terraces of the Baha'i Gardens (you can get here in an organized tour from 09:00 to 17:00) , City center shopping complex (with its 30 shops and food establishments), and they will be able to apply to the specially created for tourists to the area information center, if necessary.
Carmel: It is of interest because of the Lighthouse Haifa port, the upper terrace of the Baha'i Gardens (from the observation platform can be photographed panorama), Carmelite Monastery (proposed inspection library, educational and residential buildings, the church of Stella Maris, a visit to the museum, where exhibits of the period of the Crusades are stored), a concert hall " Auditorium ", the zoo (you will meet with 350 species of animals + visiting the natural history museum + walk around a small botanical garden), the museum of Japanese art" Tikotin "(examination subject 6000 exhibits in the form of sketches, prints, paintings, ceramics, ancient books, textiles , statues, visitors can attend the seminars, film screenings, courses of study of the Japanese language).
Where to stay tourists
Tourists can stay at the Bat-Galim -they will be located next to the city beach. In addition, the district has a developed bus service that can not fail to please those who are planning to travel around the city (the only negative - the old housing stock). A stay in one of the hotels in the area of ​​Carmel, visitors can find everything for a good rest, including shops and restaurants.
Photos Haifa area