The beaches of Haifa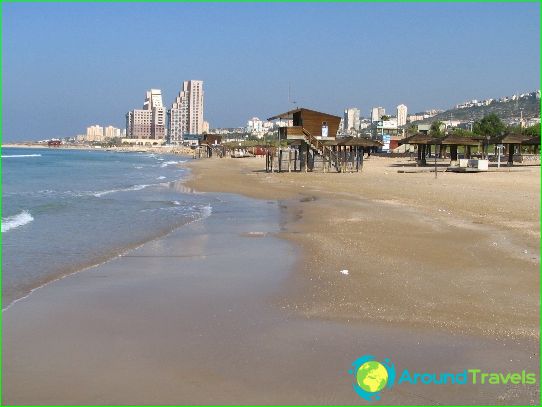 More often than not, tourists visit Israel in orderto relax on the local coastline, but in order to enjoy the ancient historical monuments, which are full of this region. However, this does not mean that the best sandy beaches in Haifa are not popular among them - quite the contrary. The calm surface of the sea, clean the bottom and offers an abundance of outdoor activities - all this attracts vacationers stronger magnet and experience is enough for a working year.
Bat Galim
"The main" beach where many believe Bat Galim. It is located on the bay and has a lot of neat breakwaters, which here and there cut the sea surface. These breakwaters, the sea here is not seen raging, so parents prefer their children to carry it here. They then present expanse: playgrounds, clean sand, from which you can build huge castles, gently sloping seabed and no high waves. Here kids will be comfortable and pleasant to learn to swim, and their parents do not have to worry too much about their safety - rescue vigilantly monitor all bathers.
Adults are also will not be bored, because for them on the beach of Bat Galim can find lots of different proposals:
beach equipment rental at a symbolic price;
rental of equipment for extreme water sports, including small boats and boats, and pedal boats;
availability of cafeterias and bars for all tastes, where you can safely cool, sipping iced tea or a drink stronger.
Of course, to retire on the beach of Bat Galim unlikelywill, as this beach is popular even among locals. It is best to take the place early in the morning, because at night it often happens that an apple is simply no place to fall. If you - the fan is quiet, secluded vacation, it is best to find other offers.
Dado Zamir
All beaches have a high level of Haifaservice and low prices for the beach equipment rental, but is considered to be the best Dado Zamir. It is noteworthy that before the beach is very convenient - you can get to it as from the outskirts and the city center. This beach is the cleanest of all of which are located within the city. Dado Zamir very well equipped, and the nearby promenade is considered the longest in Haifa. It will find a place, and fans of the "wild" holiday: a small part of the beach is not touched by the benefits of modern civilization, so you can feel the closeness with nature and indulge in his own thoughts. The sea in this part of the beach is not as quiet as there is no breakwater, and the local nature is left in its original form.
Photos beaches of Haifa