Metro Haifa: diagram Description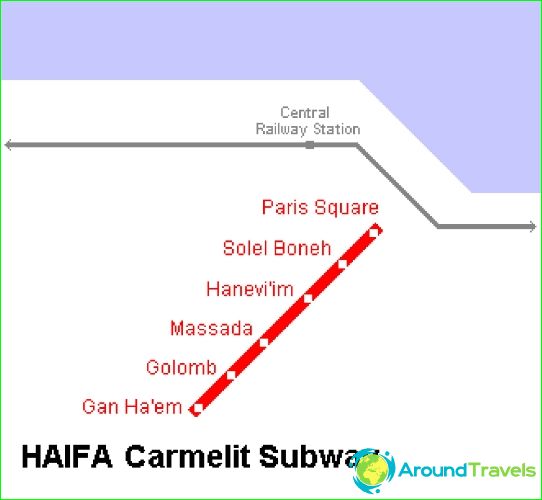 Public transport underground, funicularIsraeli city of Haifa called Carmel. The length of its lines is only two kilometers away, and the number of stations serving passengers, equal to six. On the day of the subway Haifa carries a little more than 2,500 passengers, which is about 730 thousand per year.
Metro Haifa is in fact a funicular,connecting the three regions: the coast in the Lower Town, the plateau of Adar, on which are located the cultural center, the city hall and schools, and residential area on the top of Mount Carmel. Bus service between these areas due to the narrowness of the streets and traffic jams on the roads causes a lot of problems, and his organization - complaints from citizens.
In 1956, construction work on layingSubway of Haifa, which is more appropriate name of "cable car", was successfully launched. In October 1959, Metro was launched, and the first passengers gladly laid down in the tunnel.
Today Carmelite Haifa - is the only kindpublic transport, which allows passengers to rise from the lower town to the Carmel area for 10 minutes, regardless of the traffic jams in the streets during peak hours.
Stations are equipped with Haifa Carmelite names onHebrew, Arabic and English. The escalators at the stations operate only in recovery mode, and placards and show the waiting time for the next train, and current news reports, including the weather.
Hours Metro Haifa
Metropolitan Haifa opens at 6 amall days except Shabbat or holiday. These days the station ready to take its first passengers at 19.00. Metro is closed on Fridays and before holidays at 15.00, and every other day until midnight.
train waiting interval is usually about 10 minutes, the distance between end stations Carmelita compositions overcome eight minutes.
Tickets for the subway in Haifa
Travel by subway in Haifa can be paid by buying a ticketin vending machines at the entrance to the station platform. There are tickets for one trip, on several trips, daily and monthly travel passes. Acquired single ticket is valid for one day after the sale, and at any of the stations.
In Haifa, you can buy a single ticket, which gives the right to take advantage of not only the Carmelite services, but also a city bus.
Discounts are available when purchasing tickets for children under 18 and pensioners, and such preferential travel documents can cost up to 50% cheaper than usual.
Metro Pictures Haifa