Zoo in Haifa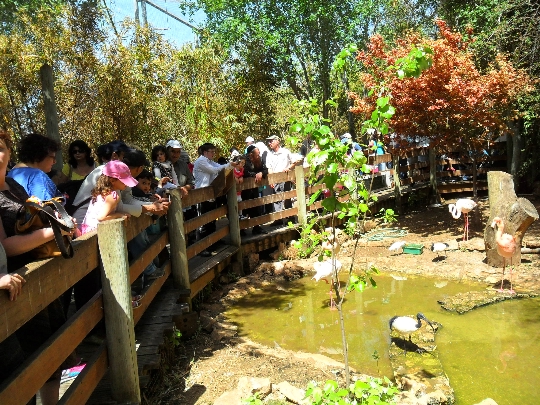 For the first time the zoo appeared on the map of Haifa in 1949year as a small farm, which hosted the school lessons of biology. Its creator Pinchas Cohen was the real enthusiast of the business, and after a few years of the Haifa zoo talking all over the country.
Besides the implementation of tasks entertainment parkIt serves educational purposes - on its territory to establish a museum of prehistoric times, where you can see artifacts from archaeological excavations on Mount Carmel. For those who are interested in biology, seem fascinating and a tour of the botanical gardens at the zoo.
Name Louie Ariel Goldschmidt
The name of the zoo in Haifa is known to every citizencities. Young boy Louie Ariel Goldschmidt is no different - finished school, interested in photography, dreamed of becoming a doctor or a good teacher. His life was cut short in a car accident, but the city has preserved the memory of it in the name of the park, where you can come with your family and see the heights of Mount Carmel with how beautiful Haifa.
Pride and Achievements
Member of the European AssociationZoos and aquariums, named Louie Ariel Goldschmidt Park has now become a cozy home to 350 animals, which scientists refer to hundreds of species. Beyond the usual Israeli residents camels, foxes, Fenech, cobras, vultures and deer Persian, settled in the zoo White Bengal tigers and wild leopards, monkeys, capuchins and Amazonian anacondas. Peacocks and pheasants strolling along the paths of the park completely free, and lemurs are involved in the daily show, during which their cages allowed young visitors.
Contact mini-zoo in Haifa park offerscommunicate with spotted deer, and at night there are often night safari, when it is possible to observe animals, particularly active at night.
How to get there?
Location of the zoo - Louie Ariel Goldschmidt, HaTishbi Street, 124, Haifa 34455.
Driving directions can be in the zoological garden in the metro Haifa to Mother Garden station or on bus routes 21, 22, 23, 28 and 37 to stop Gan Ha'Em.
Helpful information
Haifa Zoo Hours:
From May to August inclusive, the park opened in 0900 and is open until 16.00. On the day before the holidays and Friday - to 13.30.
From September to April - every day from 09.00 to 18.00 except Friday and the eve of holidays, when the zoo closes at 15.00.
Input the last visitor is possible one hour before the closing of the park.
From Sunday to Friday, pin mini-zoo with deer, rabbits and hamsters running from 11.00 to 13.00.
On Saturday, he - from 11.00 to 15.00.
The price of tickets for seniors - 25 NIS. The reason for the discount is the identification photo. All other visitors, regardless of age and social status have to pay an entrance fee of 35 shekels.
Contact and additional information
Official Site - www.haifazoo.co.il.
Phone + 04-8372390
Photos Zoo in Haifa