Shops and markets in Jerusalem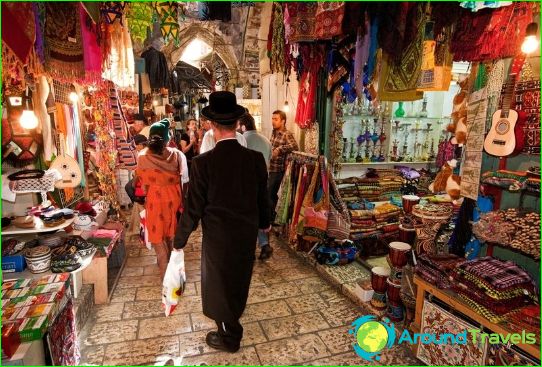 Jerusalem offers an extensiveexcursion program. Spending time on shopping trips in the city, where many religions intertwined and historical subjects, at first glance it may seem sacrilegious. But the cultural experience is sometimes a desire to escape. This well help to local shopping centers, boutiques, outlet and markets.
Experts advise to buy goods in Jerusalemmiddle segment and the mass market. They are not expensive, and often cheaper than in Russia. But in respect of purchases of luxury goods should be careful. They were better in Paris, Milan, London. When buying souvenirs in the markets is necessary to bargain.
Popular outlets
Pedestrian street of Ben Yehuda and Nahalat Shiva successfullysuitable for souvenir shopping, cosmetics with Dead Sea salts, authentic goods, jewelry, art, Judaica. The first is with the modern part of the city and contains a few more shops with clothes, shoes and accessories. The second - in the old part of the city. In one of the many cafes you can relax and listen to live music. In Nahalat Shiva especially popular restaurants "Rahmo" and "Eldath".
'Malchus' - the biggest shopping center in Jerusalem. If being in the heart of Israel, you are missing the European style and brand you here. Here you can also find products from Israeli designers. Leisure provides restaurants and a cinema with twelve rooms.
District Talpiot popular with tourists, the suffering of fashion. Here, there are two shopping centers "Leo Talpiёt" and "Adar Beth", many individual shops, some outlets.
Mahane Yehuda Market - noisy and colorful place. This is the oldest market in the once poor neighborhoods of the city on Jaffa Street. Now this quarter was chosen by the students. Trading on the local market vegetables, aromatic fruit, cheese, fish, delicious pastries and a variety of small things. Goods here are as diverse and varied as the city itself.
Bazaar in the Muslim Quarter is located on the streets near the Damascus Gate. Here you can buy incense, smoking blends and hookahs, Muslim and Arab robes, ceramics and textiles.
Photos Jerusalem shops