Holidays in Jerusalem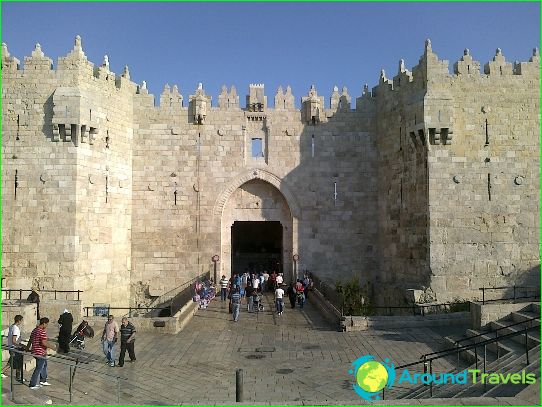 Holidays in Jerusalem - is the ancient and modern buildings, ramshackle bazaars and newest shopping centers, as well as a developed tourist infrastructure.
The main types of leisure in Jerusalem
Sightseeing: within the framework of rounds you will be able to admire the city from the observation deck of the Mount of Olives, visit the temple of the Holy Sepulcher, Chapel of St. Helena, the Wailing Wall, the monastery of the Assumption of Our Lady, the tomb of King David, the Holocaust Museum and Rockefeller Museum, see the Threshold Judgment Gate, Stone of Anointing, walk through Gethsemane garden. Be sure to go on an evening walk on Jerusalem - you will walk through the Old Town, take a look at the mill Montefiore, the Wailing Wall, as well as a laser show in the Historical Museum in Jerusalem.
Active: will be able to enjoy themselves in nightclubs "The Underground", "The Winery", "Blue Hole Pub", play paintball, ride on horseback, explore the neighborhoods of Jerusalem on the buggy.
Family: the whole family should look into the Zoo Biblical Zoo, a walk in the park and the Liberty Bell Garden Wohl Rose, spend some quiet time or do sports entertainment Kiftzova equipped sites in the park, ride the elevator to the time - ride with special effects, about the history of Jerusalem.
Prices for tours in Jerusalem
The best time to visit JerusalemIt is considered the beginning of March - May and September - November. Since these periods, as well as the end of December - mid-January is high season, it is necessary to prepare for an increase in the value of permits in the capital of Israel. If your goal - to save, go to Jerusalem in the summer: from the hot weather reduced prices for tours.
On a note!
Getting around the city is convenient to buses, but those who plan to visit remote areas of the city should be borne in mind that Friday evening and on Saturdays they do not go for the flights.
In crowded places it is not recommended to behave noisilyand publicly express their emotions, and coming into the public institution, is to smile and say hello to all. To reduce the initial cost of the goods, when visiting markets and private shops to bargain is appropriate.
It is worth noting that when you visit a large shops and supermarkets at the entrance to the guards decided to show the contents of the bags.
In memory of their holiday in Jerusalem should bringIsraeli wine, cosmetics with minerals and salts from the Dead Sea, the pilgrimage set (consecrated oil and a handful of earth in Jerusalem), the religious theme gifts (candles, crosses, icons), jewelry, stylish clothes and fashion accessories, electronics, audio and video equipment, ceramics , leather and fur.
Jerusalem (Israel)
Photos rest in Jerusalem