Jerusalem Suburbs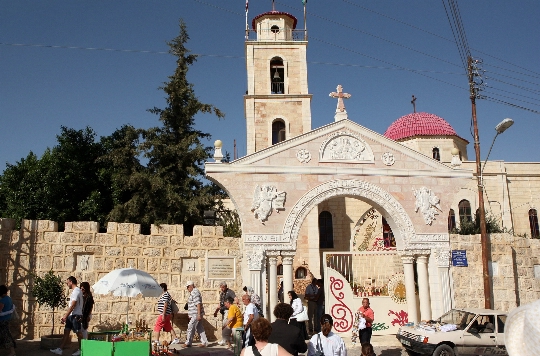 Israel's capital is not in vain considered one ofthe oldest cities in the world. According to archaeologists, these lands have been inhabited as early as the 4th millennium BC, and the history of the center and suburbs of Jerusalem, holds dozens of attacks, sieges, destruction and conquest.
From the Nativity
The most famous suburb of Jerusalem - a placeespecially revered by Christians all over the world. In Bethlehem, Jesus Christ was born, and the city in the Palestinian National Authority receives each year hundreds of thousands of pilgrims from around the world. It is here that the Magi saw the star, announced the birth of the Savior, and the streets of Bethlehem witnessed the Innocents, as described in the Bible.
In Bethlehem came the Romans and the Crusaders, the Ottoman and Egyptian army, he repeatedly passed from hand to hand, and its current status is also quite ambiguous.
In spite of that, the locals, being inmostly Muslims, very respectful of Christian pilgrims. Visit the Cave of the Nativity, on which in the VI century, the temple was built, are committed to all the faithful, tourists, Christians who find themselves in this suburb of Jerusalem.
Basilica continuously operated forall the centuries of its existence. She has been on the UNESCO World Heritage list. Place of birth of the child pointed silver star, a magnificent Byzantine mosaics preserved on the floor and walls. Orthodox Icon of Our Lady of Bethlehem is revered as miraculous, and is located at the southern entrance to the basilica.
The city of the most ancient trees
Jericho, 30 km north-east of the capitalIsrael - another ancient city that existed for at least eight millennia. Here are concentrated many historical and biblical sites, among which there are also very significant:
Eight-meter tower, built by the most conservative estimates, in 7300 BC
The city walls, belonging to the Bronze Age, which gave rise to the story of the trumpets of Jericho.
The ruins of the winter palace of Herod the Great.
One of the oldest synagogues in Israel with Byzantine mosaics, the date of construction of which - I century BC
Forty Karantal mountain, where the devil tempted Jesus fasted and Monastery of the Temptation.
The fig tree of Zacchaeus, who was the first Christian bishop of Caesarea in Palestine.
Getting to this suburb of Jerusalem is easy to take a bus or taxi to go to the bus station of the capital.
Photo