Tours in Jerusalem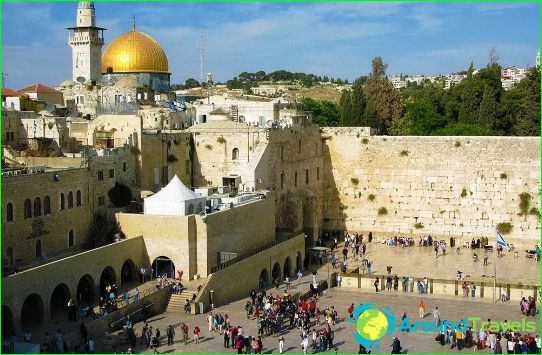 Jerusalem, above all, interesting tour,who are not indifferent to the history of religions. Here are concentrated relics of three world religions: Christianity, Islam and Judaism, therefore, among the guests the most part - it is the pilgrims. But whatever the status of the trip, in Jerusalem tour will help to better know and understand what lived in ancient times and now lives this colorful city. After all, here every step of the sights, and ignorance can just pass by without paying enough attention to them.
Therefore, before you go to Israel, thereIt makes sense to look for the suitable tour in the "city of three religions". So it will be easier to understand what is required to Jerusalem each of these religions, and, of course, to visit the historical monuments not only religious but also secular values. Keep in mind that the program of these tours may vary considerably, and this is reflected not only in the list of visited sites, but also the prices. Advance an idea of ​​Jerusalem can be either tourists reviews or explore the historical literature.
What you can see on the tours?
Sightseeing tours in Jerusalem, as a rule,It was held at religious sites. This is the Dome of the Rock, or - Qubbat as-Sakhra, it is the famous Wailing Wall, which once was the western wall of the Second Temple in Jerusalem, which has undergone more destruction in the I century AD, this temple of the Holy Sepulchre. Christians also show Via Dolorosa - as in Latin is called Way of the Cross, or Way of Sorrows. According to the Gospel, it was this way, Jesus went to Calvary. You will be acquainted with the Cathedral of St. James, as well as conduct in Tsidkiyagu caves, which are no more than a quarry of Solomon.
List of memorable places that you can visit, will look like this:
Dome of the Rock;
Church of the Holy Sepulchre;
Wall of Tears;
Via Dolorosa;
Cathedral of St. James;
Quarry King Solomon;
The Tower of David;
Mary Magdalene Convent.
And let the current state of Israel existsa little more than fifty years, still it has a long history, and as it is Jerusalem, it can rightly be called one of the oldest cities in the world. Therefore, it is possible that the list of attractions is not the same as in above, and more extensive. Alternatively, the tour can only be Muslim, Judaic only, or only on Christian places of the city. But anyone wanting to broaden their horizons always have the opportunity to go to the "mixed" tour.
Jerusalem (Israel)
Photo excursions in Jerusalem