Best Resorts of Israel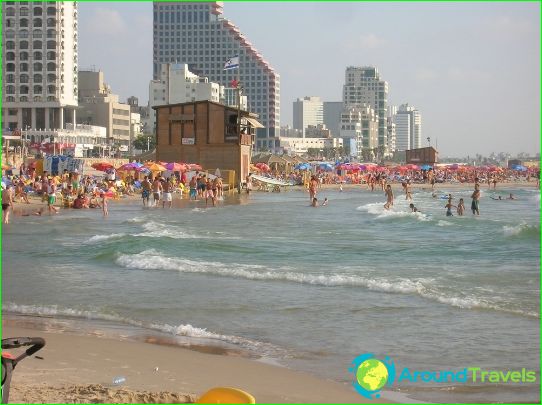 Israel - the country, ready to meet the demands ofeven its most discerning guests. It is a country of eternal sunshine, so for a trip, you can choose any month of the year. The best resorts of Israel will certainly meet you with warm caressing sun.
Eilat
One of the most southern cities of the country, give Eilatbright sun, and an excellent opportunity to enjoy the sea views. Located on the edge of a lifeless desert, the coast of amazing Red Sea, this luxurious oasis becomes the center of attraction for many tourists.
The length of the beach is 12kilometers, therefore, despite the popularity of Eilat at the visitors, a place on the warm sand enough for all. All beaches are perfectly equipped and waiting for you at any time of day: day to sunbathe and swim in the Red Sea, and in the night to take part in a noisy youth party.
Netanya
This is one of the most popular Mediterraneanthe resort areas of the Promised Earth, where there is everything you need and more for a splendid vacation. Netanya - a warm Mediterranean, hot sun, excellent beaches, an endless string of sidewalk cafes and restaurants, surprisingly beautiful architecture and lots of boutiques. Therefore rest in Netanya - a great way to relieve the load from the shoulders of everyday worries and just enjoy life.
Spa Dead Sea
Almost the entire coast of the Dead Sea isa single resort area, where are located its famous hospital. The most famous resort areas - Ein Bokek, Neve Zohar and Zohar Hamei. This is where the largest number of hotels are located. Hotel complexes built directly on the coast, so some of them have their own beaches and individual access to the sea.
Located here a variety of spa-centers,equipped with the latest equipment, massages and wellness treatments will fill the time notes of bliss spent here. The surrounding landscape and excursions to historical places of the country will rest not only useful, but also informative.
Jerusalem
Jerusalem will bring a lot of unforgettable impressions. Only here you can see all the revered Christians, Muslims and Jews, the holy places, to walk the path of Christ, as he carried his cross to Mount Calvary. To touch the Holy Sepulcher and to feel awe.
A huge number of attractions are concentrated in the capital, and rich excursion programs make an Israeli vacation the most memorable moment.
Israel - promo video
Photos of Israel resorts