Christmas in Israel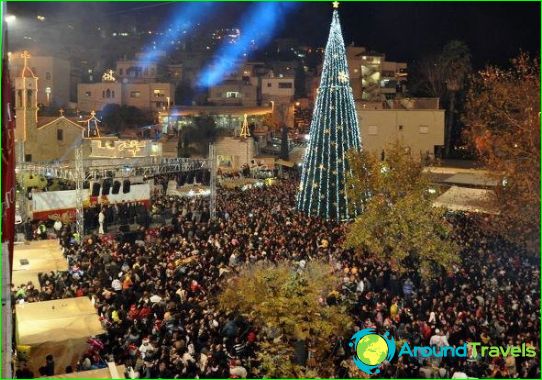 The place where the Savior was born, it is notfictitious or mythical. It is located in the town of Bethlehem, just south of Jerusalem, and therefore celebrate Christmas in Israel seek every year thousands of pilgrims and faithful from all over the world.
The oldest temple
Church of the Nativity is the oldestin the Holy Land. Date of its construction - VI century, and it was under some local stone arches, blackened by time and smoke candles, festive night Christmas service. On the square in front of the Basilica of set tree, and the city becomes like a postcard. Its windows are decorated with compositions on biblical themes, and colorful bazaars offer customers souvenirs and gifts for family and friends.
Another holy place for all Orthodox -Holy Sepulcher. This is the place for Christmas in Israel is always crowded. Services tend to visit it all the pilgrims, and to touch the sacred stones prefer even those who are not too observe religious rites.
Walking as a walk!
In Israel, home to many immigrants from Russiaand the former Soviet Union. For them, Christmas and New Year - a childhood favorite holidays, and therefore decided to celebrate them here with a Russian sweep. On the table are the Israelis and the roast turkey and a traditional Russian salad, and pancakes with caviar. Christmas in Israel - a good excuse to meet with friends and remember the old days.
Guests of the country prefer to usea unique opportunity, and go on a tour of Israel. For example, to swim in all of its four seas: the Mediterranean, the Red, Dead and the Sea of ​​Galilee, the good, warm climate allows.
Tours to the Dead Sea enjoy specialpopular because it is a unique natural body of water allows to cure many skin diseases, and inflammatory and gives an incredible feeling of swimming, not like the ordinary.
Christmas in Israel, held in Eilat, will bea great beach holiday on the Red Sea, where a variety of activities from diving to paragliding. Excursion to the factory for the manufacture of products from Eilat stone meet interesting fishing, and the issue with the search for original gifts for friends and loved ones will be solved.
Another important plus the celebration of ChristmasIsrael: a visa to enter the country for Russians is not required, and the flight takes a little time. Its worth spending to bring amazing impressions and bright memories of the Holy Land, which gave the world the Savior.
Photos of Christmas in Israel