Israel Holidays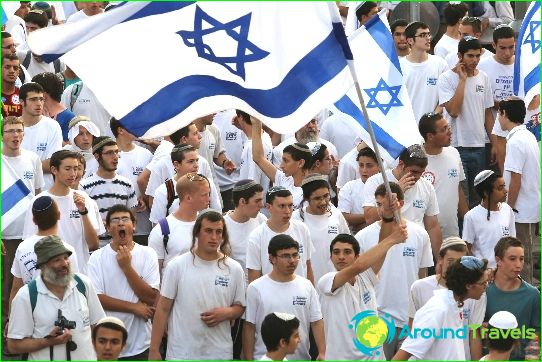 Israel Holidays are subject to the lunar calendar,so from year to year, they celebrated not in the same dates. Yet the same holiday is considered to be the Sabbath (every Saturday), when you can not work.
Holidays and Festivals of Israel
Tooby Shvat (February): this day planting trees Jews (for this purpose the whole family go on nature), and during the meal (on the table exhibited a lot of fruit - 15-50 species that are eaten in a certain order) read psalms.
Independence Day (14 May): in this day people dressed in festive clothes, having fun on national holidays - in addition to being arranged air parades, all worthy handed state awards in the field of research, literature and art.
Tu B'Av (August): on the day of love and lovers congratulate present each other with romantic gifts, and some make a marriage proposal.
Pesach: Easter is celebrated in spring, and on a holiday made to pray and devote time to his family and loved ones. Some go on a picnic in some picturesque corner of the country. On the festive table is necessarily present matzo, egg, roasted lamb shank, green leaves. In addition, in honor of the holiday arranged festive ceremony.
The festival "Jazz on the Red Sea" in Eilat(August) arrived here during the festival, you will be able to enjoy your favorite music (represented by a diverse range of musical styles - from classic jazz to avant-garde, jazz, rock and ethnic jazz), see jazz performers, visit various events to mark this event . As a rule, the festival concerts are held in the open air on the south coast resort. It is worth noting that in the days of the festival everyone, not just musicians, can visit the "master classes", allowing a glimpse into "creative laboratory" known musical maestros.
Tourism Events in Israel
Lovers of event tours in travel agenciesoffer to visit Israel during the Summer Festival, Rock Festival, the Festival of water sports, followed by a night carnival, the International Harp Competition, the International Film Festival in Jerusalem, and others.
In Israel, in particular, is to come to HaifaDecember, when there celebrate Chag Ha Hagim (Holidays Holidays). During this period, you can meet with musicians, artists, photographers, writers and actors. Be sure to look into the "Wadi Nisnas": the Arab-Jewish quarter organized installations, exhibitions, performances and circus jugglers.
In Israel, many holidays and dates associated with certain customs, causing interest among those who regularly visits or just going to visit the country.
Photo