Israel Kitchen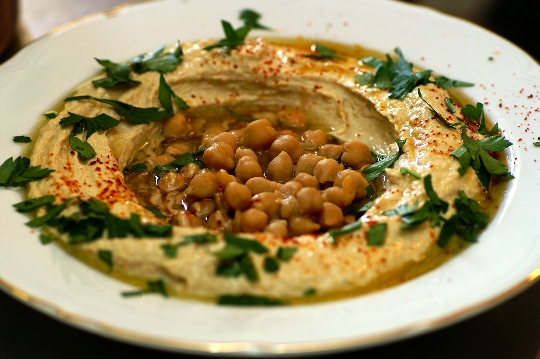 Israel's Kitchen - is not just a local gastronomic traditions that evolved over the centuries, but also the culinary direction of neighboring countries where Jews lived before returning to his native land.
Ethnic cuisine Israeli
Traditional cuisine prepared using legumes, vegetables, olive oil, greens.
Israel's Ashkenazi kitchen is divided into a kitchen,which is famous for such dishes as "kugel", "mincemeat", "tsimes" and Sephardi, which is characterized by the preparation of aromatic and spicy dishes such as couscous, jachnun and Kube.
It is worth noting that in Israel there is a concept,how kosher food - for it is characterized by the absence of the table with pork dishes and shellfish. In addition, kosher implies a ban on the use of food products from the blood of animals. With regard to the supply of meat and milk products, it is made exclusively individually.
Popular dishes of Jewish cuisine:
"Hummus" (snack of mashed chickpeas with lemon juice, olive oil, paprika and garlic);
"Mincemeat" (chopped herring with egg, vinegar, pepper, onion);
"Meorav Yerushalmi" (roast different kinds of chicken meat with onion and spices that is served on a plate or in pita bread);
"Marak Zana blinders they yam" (soup with sweet potatoes and bovine tails);
"Hrayme" (a dish of fish in a spicy sauce);
"Tsimes" (a dish of sweet vegetable stew).
Where to try the national cuisine?
Traditional Jewish cuisine restaurantsconcentrated mainly in Jerusalem, Safed, Nazareth and other cities. In Israel, you can meet and hummus - small restaurants, main course that is the hummus, which is prepared almost in front of visitors. But this book offers not only hummus, but also to eat, for example, a thick soup of beans (Fula) and a salad of marinated vegetables.
In Jerusalem, you can look at "Rahmo" (institutionoffers to eat hummus, soup Kube with meatballs in dough, and other traditional dishes), in Haifa - in "Abu Shaker" (specialized institutions - hummus: here are served with parsley, sesame paste, pita bread, rice or lentils), in Netanya - in pundak "Chaim" (the Israeli restaurant serves hummus, fresh salads, grilled fish and meat on the coals).
Note: the menu at the national restaurant reflected in Hebrew and in English.
Cooking classes in Israel
If you wish, you can attend classes in cookingschool "Artichoke": cooking courses consist of theoretical and practical part, the chef teaches his students to cook traditional Jewish and meals on their own original recipes (products in the form of vegetables, berries, herbs, fruit delivered to the table novice cooks directly with fields).
Visiting Israel is to conduct podgadatHoney Festival (September), Festival of wine and cheese (May, Haifa), the culinary festival "Taste of the town" (May, Tel Aviv), a beer festival (August, Jerusalem), Wine Festival (May, north of Israel).
Photo