Traditional cuisine Israeli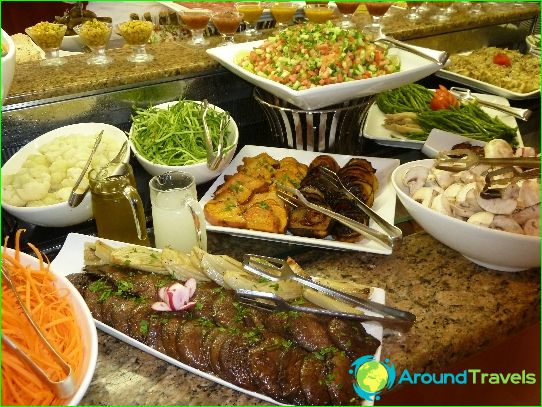 Food in Israel is diverse: in local establishments are fed food that is useful to health, and the portions are very large discount (usually you can eat and a half servings).
Food in Israel
Traditional Jewish cuisine is based onUsed kosher food. For example, the Israelis can not eat pork and aquatic life that do not have fins and scales (crabs, clams, squid), and dairy products can not be eaten with meat.
In hotels, restaurants and supermarkets all over the placeyou can find kosher products, but because the country constantly tourists come to find something not kosher shop or restaurant in Israel - not a problem.
The basis of the Israeli cuisine make up the vegetables, fruits, olive oil, herbs, fish, legumes.
Favorite food is Israeli pita - flat bannock, which they impose various toppings in the form of vegetables, sauces, fish or meat. In addition, the Israelis are using it instead of bread.
Israeli cuisine in something similar to Arabic, so Israel can taste hummus - chickpea purée flavored with spices and olive oil.
Where to eat in Israel?
At your service:
- Restaurants (where you can taste not only serves Israel, but also other cuisines of the world);
- Networking coffee (Aroma, Ilan's Coffee House, Espresso Bar);
- Private and pastry shop with a "local" fast food (here you can enjoy a shawarma, falafel and various salads).
Drinks in Israel
A popular drink in Israel are: Tropit (fruit drink), Chocolate milk (chocolate milk), beer (Nesher, Goldstar, Maccabee), liquors (Arak), wine.
As in Israel recently widelydistribution has received wine, then if you want you can visit the wineries, boutiques and wineries, not only taste, but also to buy a few bottles of wine.
Gastronomic tour in Israel
Going to Israel in the framework of gastronomictour, you can visit the Old Jaffa market and take part in the purchase of spices and seasonings, led by the chef of one of the best restaurants. Then you can watch the process of cooking dinner and then eat it.
workshops can be visited if you wish. For example, in Tel Aviv at the restaurant "Honey Beach" before your eyes will prepare a whole lamb, using about 10 different spices. While he will be ready, you and all those present at the master class prefer salads with nuts, pepper, herbs and other ingredients. And for dessert you can eat baklava.
Holidays in Israel will amaze you not only historical and cultural sites, but also a fertile climate and positive dining experience obtained here.
Photo of Israel national dishes