Airport in Tel Aviv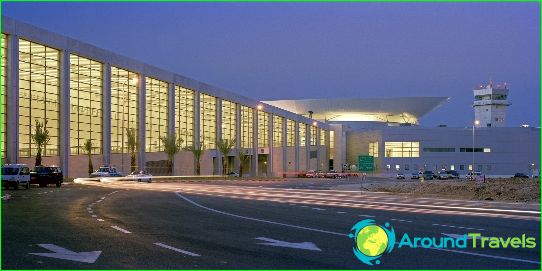 The official name of the airport in Tel Aviv - an international airport in Tel Aviv, Ben Gurion. Its international name - Ben Gurion International Airport, international three-letter code - TLV.
The airport is located 20 km towardssouth-eastern part of the capital of Israel. The airport is the main hub of Israeli carriers Arkia Israeli Airlines and EL AL Israel Airlines. Ben Gurion - one of the safest in the world. It provides protection squads of police and soldiers of the Israeli army and private security guards.
The composition includes all four airport terminal, of which only two operating. From the terminal to the terminal bus service, it allows the mobile to move from domestic to international flights.
The local (or internal) airlines and somethe number of charter flights serving №1 terminal. Major international flights takes multi-level terminal №3. On the ground level (in our opinion - on the 1st floor) located terminal waiting rooms, higher level - the reception area and Duty Free.
Tools and Services
The level of comfort of the airport in Tel AvivIt meets all international requirements. Easy navigation system, everywhere are signs, movement scheme, informational announcements. Furthermore additional information (including in Russian) are available at the information desk. For passenger services provided by many cafés and restaurants. Work branches of banks and bank counters, where you can exchange money, make money transfer or withdraw money. Throughout the airport has free internet.
passage
Coming from the airport to your destination in several ways:
by train - this type of transport usesthe most popular among tourists. During the daytime trains interval is 20 minutes, at night - an hour. Monday - Thursday and Sunday trains run around the clock, on Friday - from 24:00 to 15:00 and Saturday from 20:40 to 23:10. The ticket costs - 14.5 shekels (about 140 rubles). In Tel Aviv on exit stations installed turnstiles, so tickets will remain until the end of the trip.
bus - every 15 minutes along the routeAirport - Tel Aviv shuttle bus number 21, 23, 24. The beginning of the movement at 5:00 am, the end of the movement in 22:00. Bus №475 be to the bus station, the bus №222 - up w / station. The ticket costs 16 shekels (150 rubles)
by minivan (minibus) - the ticket costs NIS 30-40 (280 - 300 rubles), for 30-40 minutes while on the road.
taxi - parking is located directly at the exit of the arrival terminal. The trip costs 250 shekels (2,300 rubles).
Photos of Tel Aviv Airport