The beaches of Tel Aviv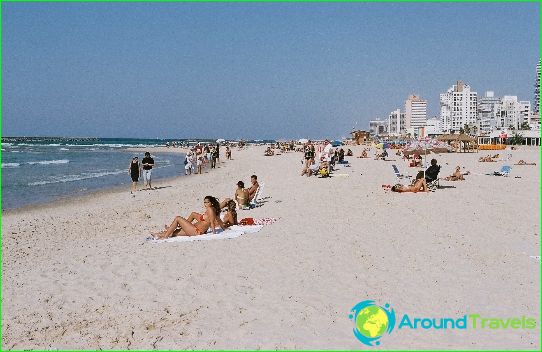 Israel attracts not only lovers of antiquity andreligious adherents. The country has developed a beach holiday industry, and, of course, the economic capital of the state can not remain aloof from this. So go on Tel Aviv's beaches.
Gordon Beach
At the very center of the beach area of ​​the city isGordon Beach - one of the most popular sports sites on the coast. Located in front of the Sheraton hotel, the beach is very recognizable, since it was his view often adorn guidebooks. And he is famous for being right at the water, you can find a variety of sports equipment. Among them there are playgrounds for beach volleyball and beach tennis.
Beach Hilton
Hilton Beach is located near the eponymous hotel. His long been chosen by fans of surfing. It is part of the best sandy beaches of Tel Aviv.
Hof Yerushalaim Beach
This beach is famous for the fact that it hasa special place to practice kitesurfing. Beach love young people, as you can work out in the sports simulators. In the evenings on weekends here Latino musicians give concerts.
Unusual beach Nordou
This beach is considered to be religious. There is observed separate swimming mode for different days of the week. In some days, there are going to men, in others - a woman. On Saturdays, the beach is visited by everyone.
Beach Hof Metzitzim
Near the port is perhaps the mostthe iconic beach of Tel Aviv - Hof Metzitzim. Sam port similar to the cultural center. It employs all sorts of fairs, you can visit the restaurants and bars, with a unique design. Tu unique atmosphere. In addition, it is also a shopping center. Many stores sells proprietary products of famous brands. Many tourists tend to the indoor market and a la Barcelona buy fresh products. It gives exclusive dishes to try out these products made by chefs of local restaurants. The choice of visitors - different cuisine: Oriental, Italian, French.
Alma Beach
The southernmost beach of Tel Aviv - a beach Alma. It is fairly quiet, since it is far from the center. The beach is located next to the Jaffa - the ancient port city is not only Israel itself, but also around the world. It is through the port in Jaffa delivered wood to the Temple of Solomon.
Banana Beach
The name came from a nice beach cafe,the aligned right on the beach. In summer you spend the weekend of 30-40-year-old residents of the city with their children. The ubiquitous teen then practically does not happen, because there is not noisy and crowded most days.
Photos beaches of Tel Aviv