Best restaurants in Tel Aviv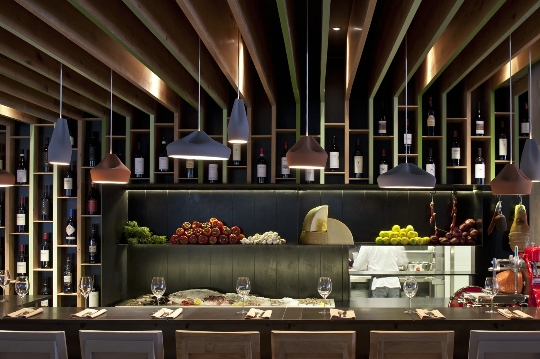 The Mediterranean climate, kilometers of beautifulbeaches and numerous entertainment attract crowds of tourists. Holidays are really excellent. Tourists are provided with numerous museums, yacht clubs, nightclubs, authentic markets and the best restaurants in Tel Aviv.
Kosher Restaurant
Kosher places in Tel Aviv are divided intodairy and meat. Restaurants with breast cuisine: «Deca»; «Florentina»; «Rech Lakich»; «Guidi». Meat kosher restaurants in Tel Aviv - is «La Terrasse», «Petrozilla», «Armando» «Meatos» and «Lili24».
Asian cuisine
«Giraffe» - is a network of Asian cuisine andTel Aviv also has these restaurants. Here are sample sushi, egg roll or Thai rice noodles. Excellent service and cozy atmosphere of these restaurants have done their job, so they are quite well known. All places of the network are almost identical, except for «Giraffe Officers Club». It is quite expensive, but with a varied menu and wine list.
From Asian cuisine is also worth noting the «Thai House». This restaurant with Thai cuisine - one of the most popular resort.
trendy restaurants
In the first place, of course, a restaurant, "Baba Yaga". Elegant and romantic place that love local, and this is something so mean. The establishment offers guests a luxurious dinner in the garden near the sea.
The restaurant «Catit» visitors surprising combination of national cuisine with European dishes and excellent seafood and light music - in the «Herbert Samuel».
One should visit the «Cordelia» with author's cuisine from the chef. Here, an excellent wine cellar and the restaurant itself is located in an old building, so the interior is appropriate.
The atmosphere of the Italian countryside and excellent service restaurant prides «Bellini». The kitchen is both classic Italian and exclusive author.
Restaurant «Container» - here is dinner atif only because this place different from many restaurants in Tel Aviv. Interestingly it is the fact that in the «Container» going all the creative intelligentsia of the city, hosts parties and concerts, and the menu is constantly changing.
Restaurant "Little Prague" - visited here oneonce, always come back here. «Little Prague» - this is a small piece of the Czech Republic, received its popularity due to the hundreds of tourists who glorified him. The warm atmosphere and Czech beer - come here for this, guests of all nationalities.
For those who want to understand the Israeli culture and relax - Tel Aviv is an ideal option.
Photo