Prices in Tel Aviv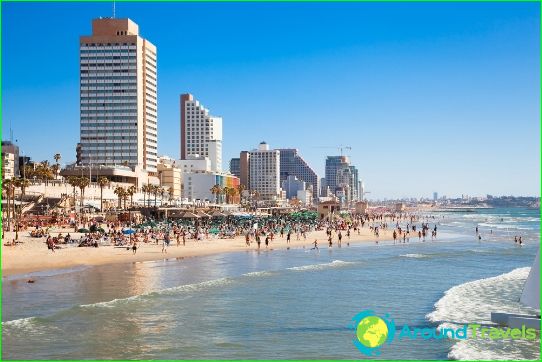 Tel Aviv has all the features for richrecreation. Tours in this city is chosen by people who want to plunge into the world of oriental exoticism. Here everyone will find something to their liking. The town beach is possible and cognitive rest, shopping and other entertainment. Gradually it becomes a popular tourist center. Consider what price in Tel Aviv for travel services. The national currency of the country is the shekel.
Accommodation
It offers tourists numeroushotels of different categories. Remove the well-appointed room is possible in a luxurious hotel or a budget hotel. Standard hotel room in Tel Aviv will cost NIS 200 per person per night. Prices for accommodation in budget hotels are very democratic. In this city, you can rent an apartment for $ 150-200 per day. In Tel Aviv, there is a hostel and budget hostels. Top city hotels are located in the coastal zone. They offer comfortable rooms and a lot of additional services: SPA, beauty salons, massage and others.
Tour in Tel Aviv for 7 days costs about $ 900. The most attractive offers are made in the winter vacationers. The peak tourist season is in August. At this time, housing prices literally soar. The off-season is the period from November to February. Rooms in hotels cheaper.
sights
Sightseeing tours are inexpensive. For $ 100, you can explore the main points of interest of the city. Many attractions may be to watch for free. Therefore, cognitive walk around the city will not be very costly for you. The city has museums and exhibitions.
In the evenings of tourists waiting for the numerous bars,night clubs and discos. Cost nightlife high. The most exciting adventures await those who took the combination tour. They visit cities like Netanya and Jerusalem, and the Dead Sea area.
Where to eat tourist
The cheapest costs snack on the street. A cup of coffee can be ordered for 70 rubles. Tourists usually eat breakfast at the hotel. If in the price does not include breakfast, you can eat at any restaurant, which is located next to the hotel. Budget breakfast will cost $ 5-10. In the restaurants of the city the cost of food is high. Inexpensive dining options in restaurants, far from the beach area. Lunch may include dishes such as falafel, hummus, and others. The cost of lunch with local food is $ 10-15.
Tel Aviv (Israel)
Photo