Tours in Tel Aviv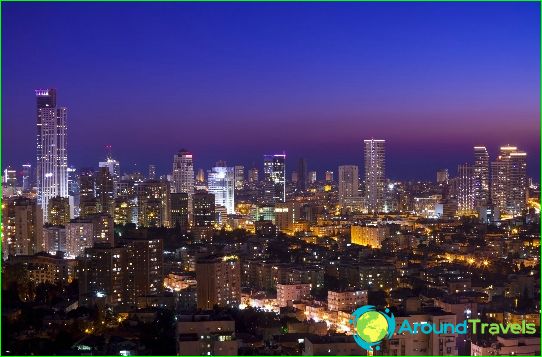 Some mistakenly believe that Tel Aviv - isthe capital of Israel, because this is where the international airport and even the country's defense ministry. Yet capital continues to be Jerusalem, and the city on the Mediterranean coast - only an important transportation hub and economic center. For those who book trips to Tel Aviv, it is necessary to know some features of climate and customs of the local inhabitants to a business trip or holiday took place in the best possible way, leaving the warm memories of the trip.
History and geography
Tel Aviv is spread almost in the middlethe Mediterranean coast of Israel. He began to build as part of the ancient Jaffa, which is one of the oldest cities in the world. In the port of Jaffa came ships with pilgrims, eager to get to the Jerusalem holy sites, and new Jewish suburb served as a transit point on their difficult path.
"Hill of Spring" means in Hebrewthe name of Tel Aviv, and here today seeking not only to thousands of pilgrims, but also young people who prefer an active holiday by the sea. The city is called the capital of the Mediterranean buzz, and its architectural and entertainment motives guessed not only Ibiza and Nice, and even Casablanca to Manhattan.
Briefly about the importance
Mediterranean dictates the weather here, andparticipants tours in Tel Aviv can count on a warm, but rainy winter, hot spring and summer long. Records heat beats May, when visitors to the city consistently observed in urban thermometers 45 degrees in the shade. Most rain falls between December and March, and the best time to travel - April or October.
Direct flights from the capital of Russia carried out several airlines, and the international airport is located just 10 kilometers from the Israeli economic center of the capital.
Getting around is easier and cheaper in the city onDan buses or minibuses. Buses to the center, it is quite able to replace excursion, because they make a stop in all the most tourist areas of Tel Aviv.
Hotels in Israel are too cheap toprinciple, but because leisure during the tour in Tel Aviv can fly into penny. If you book a hotel in the suburbs of Ramat Gan and Holon, will be able to save considerably.
In the suburb of Jaffa open most authenticrestaurants where you can taste all the specialties Israeli dishes. Good hummus offer beach cafes and in the Tel Aviv and inexpensive meal safe and pleasant street fast food.
Tel Aviv (Israel)
Photo