Holidays in Tel Aviv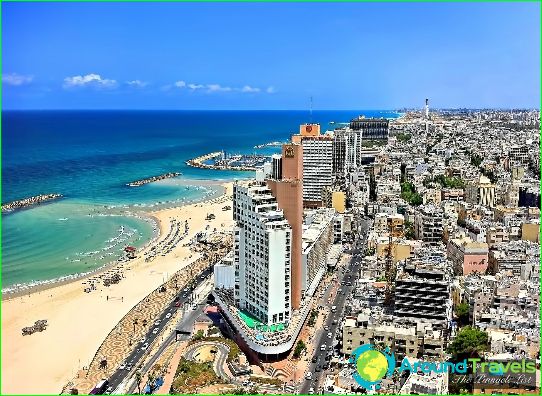 Holidays in Tel Aviv - a unique attractions, all kinds of entertainment, spas, convenient shopping and beautiful beaches.
The main types of holiday in Tel Aviv
Sightseeing: within the stages, you will see the temple of the Holy Apostle Peter and righteous Tabitha, visit the Museum of Art, the Palace of Independence, the diamond exchange in the private museum "from diamond to diamond" (here you can not just walk down the hall with exposed there jewelry, but and purchase your favorite items), go up to the observation deck Azrieli Observatory (49th floor of the Azrieli Center), walk through the Old Jaffa with its churches, galleries, shops and souvenir shops.
Active: Anyone can go windsurfing or diving, have fun in night clubs "TLV Club", "Chin Chin", "Radio EPGB", a cruise on a yacht or a boat or a bike tour of the city (you can go to the Classic Tour, a tour on electric bicycles or in the beer tour, involving a half-hour stop for a beer tasting), spend time in the gym Performance Rock.
Family: children should head to the water amusement park "Meymadon" Safari Park Ramat Gan, miniature park "Mini Israel", an interactive center "mahout".
Beach: families with children should look at the Banana Beach the beach - here you can rent a sunbed and umbrella, light snacks and drinks at the bar. Going on Frishman beach, you can make free use of showers, playgrounds and sports grounds and for an additional fee - rent a sunbed, catamaran, jet ski, play equipment. Another popular beach - Gordon: In the morning you can do sports exercises in the afternoon - playing beach tennis and volleyball, and on Saturdays - to go on the waterfront to watch the performances, accompanied by folk dancing.
Prices for tours in Tel Aviv
Those planning to visit Tel Aviv, it is worthdo it in April-May, September and October. But the prices during this time increased by about 35-40%. An even greater increase in the price of tickets to Tel Aviv observed in the summer months. Who can come to save the Israeli city in November, March, the winter months (exception - holidays).
On a note!
If your goal - to stay in budget accommodation, pay attention to the hotels in the southern part of the city and its immediate surroundings.
The city is convenient to travel by buses and taxis (urban transport service runs from 05:00 to 24:00).
It should be noted that the national currency to pay for profitable goods and services (exchange exercise is better at an exchange office or bank).
From Tel Aviv should Israel bring the wine, jewelry, vials of holy water and the earth, silver paintings, pottery.
Tel Aviv (Israel)
Photos holiday in Tel Aviv