Water parks in Tel Aviv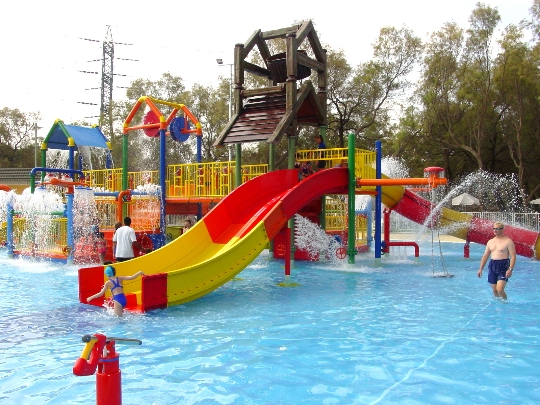 Vacationers in Tel Aviv in the summer, for sure, want to cool off and have fun. With this task perfectly cope local water park - the largest in Israel's water park!
Water parks in Tel Aviv
Waterpark "Meymadion" features:
speed long and short runs for skiing cheesecakes;
water slides ( "Meteor", "Slalom");
swimming pools, including gaming and wave surfing;
playground volleyball and basketball;
shopping (here you can get bathing suits, sunscreen and goggles for swimming, hats and other products and accessories for different types of sport) and catering points.
Guests "Meymadion" will be bored - they are hereengage in recreational activities and encouraging animation programs. And if you want you can play various games - basketball, air hockey and more. It is worth noting that we can not make a fire, but are allowed to bring their own food and to arrange a picnic in designated areas.
Entrance fee: adults and children from 2 years pay tickets at the price of NIS 92, while visiting the water park after 13:00, they will cost them 79 shekels.
While vacationing in Tel Aviv, you can have fun even ina water park - "Yamit 2000": it pleases its guests with a Jacuzzi, extreme rides ( "Amazon", "Space maelstrom", "Rainbow" with zigzag turns and spiral descents, "Banana Jump"), "Peace Child" pool effect current and waves, sports courts, sauna, buffet and cafeteria. Entrance fee for adults and children from 3 years old - 85 shekels, and for students and seniors - 77 NIS.
Water Activities in Tel Aviv
If you want to stay in a hotel with a swimming pool, pay attention to the "Marina Tel Aviv Hotel", "Park Plaza Orchid Tel Aviv" and others.
Who can go on a boat tripor yacht - it can be a group, an individual or a romantic trip for couples. It should be noted that, if necessary, snacks, drinks, massages and fishing rods for fishing.
As for the beach lovers, they canto go to Banana Beach (a place for relaxation and families with children; in addition, there are held film screenings on the big screen in the evening - they will organize a café "Banana Beach"), Hilton Beach (here find refuge surfers, kayakers and campers with four-legged friends - dogs ), Gordon beach (popular with the active vacationers who want to enjoy a game of beach volleyball and tennis, swim in the outdoor pool filled with seawater, and in the summer at a local waterfront on Saturday the audience entertained by folk dancing), Nordau beach (Saturday rest here both sexes on Thursdays, Sundays and Tuesdays it is open only to women, and on the other days - for men only).
Photo