Where to go with children in Tel Aviv?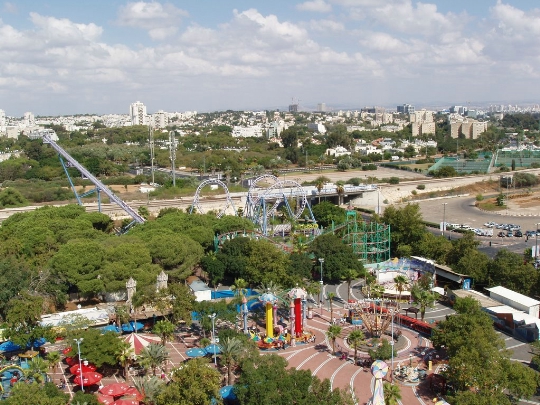 Beautiful and big city of Tel Aviv allows you to enjoy a holiday with your family. It is characterized by well-developed infrastructure and offers exciting entertainment for children and their parents.
recreation Features
Tel Aviv is a fairly expensive city. It is crowded and noisy, so it is necessary to carefully choose the hotel. It is best to choose a hotel located on the coast and specializes in family vacation. With children it is recommended to go in the spring. In May, the city formed a comfortable climate, and the streets are decorated with flowering plants. During this period, many hotels are available for guests. The main occupation of the tourists - a beach holiday. In spring the sea is not yet sufficiently warmed, but there are no storms, and so many families are already starting to swim.
Children enjoy visiting the beaches of Tel Aviv. If the sea waves, they can take in the Gordon Pool swimming pool where they can splash around freely. This pool is equipped with water slides.
For all the family are the parks wherethere are playgrounds and lawns. The largest urban park is Hayarkon. There are playgrounds for football, mini-golf and basketball courts, a climbing wall. The popular service is the park - kayaking. It opened a small zoo in the park. Next to that is the object of Bird Park, which are found in the beautiful exotic birds.
Active leisure time for children
A great vacation is waiting for visitors to the parksentertainment. These include Luna Park and Superlend. The first is located outside the city limits. You can reach it in half an hour by car or bus. Not far from the amusement park is Memadion aquapark, specially equipped for babies. The only disadvantage of this place - a large concentration of people. In half an hour from Tel Aviv stretches Museum Holon, designed for children. For high school students designed science museum in Holon.
Where to go with children in Tel Aviv, where they havesmall? In this case, parents difficult to see all the sights and shopping centers of the city. If you need to take the kids for a few hours, take them to the center dyad. They play with the kids experienced animators. Good playgrounds are available in shopping malls Dizengoff Center and Gan Hayir mall.
From the sights of the city stand outAzrieli skyscrapers. One of the buildings is a viewing platform, which offers great city views. Skyscrapers are unique architectural structures. Inside there is plenty of shops, boutiques, cafes and restaurants. The main commercial center of Tel Aviv is considered the Azrieli towers.
Inspect with children can be and the old port of Jaffa.
Photo