Israel Trains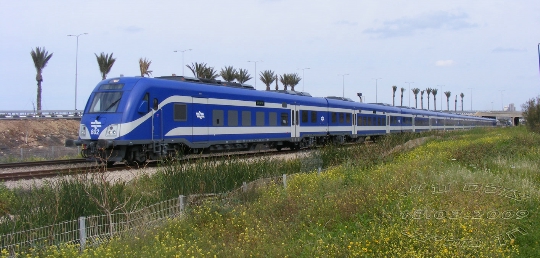 In Israel, a well-developed transportinfrastructure. Popular vehicles in the country - buses, cars and trains. Railway provides a safe and reliable transportation of passengers. Israel trains moving along well-established routes. They make a stop at the stations of large cities and in smaller suburban stations. Many residents of the country, as well as foreign tourists who prefer to travel by train. The trip by train is considered to be faster and more comfortable than the bus. In the passenger car is more convenient than the bus cabin.
Railroad device
Israel trains belong to the statecompany that has the largest in the country's transport infrastructure. Cars, trains are two- and single-storey. All trains are equipped with toilets, sinks, air conditioning and telephones, but they do not have a restaurant car. For the convenience of passengers, the aisles periodically wheeling carts with drinks and sandwiches. Quite often, the train moved too late, especially on weekends. Sunday is hard to find a place in the directions Haifa and Tel Aviv.
Israel Railways is to the north ofNahariya to Dimona and Kiryat Gat in the south. From west to east it extends from Tel Aviv to Jerusalem. Railroad tracks pass through the city center of the state: Tikva, Haifa, Kfar Saba. Today, work is underway to expand and modernize the railway. For this reason, in some areas under construction.
Schedules and routes
For information on train movement can be viewed athttp://www.rail.co.il site. Train tickets can be purchased in Israel at railway stations. They are sold in vending machines and ticket offices. Passengers can buy a one-way ticket, round-trip, and once for 12 trips. If desired, you can pre-book a place. By purchasing a return ticket, the passenger also gets a one-day bus pass.
The country has the following regular w / d routes:
Tel Aviv - Rehovot. The train goes to the south and passes Kfar Chabad.
Tel Aviv - Nahariya. The route to the north through Haifa, Netanya, Acre.
Tel Aviv - Jerusalem. The train is moving to the southeast.
In the train station, declared not only in Hebrew,but in English. Train movement does not occur during major Jewish holidays, and on Saturdays. Baggage There is no strict limits. Baggage can be things of acceptable size. An indispensable condition for the trip: personal luggage should not endanger the safety of people. The train allowed to take large bags and suitcases, personal use items, strollers (folding) laptops.
Photo