Holidays in Israel in February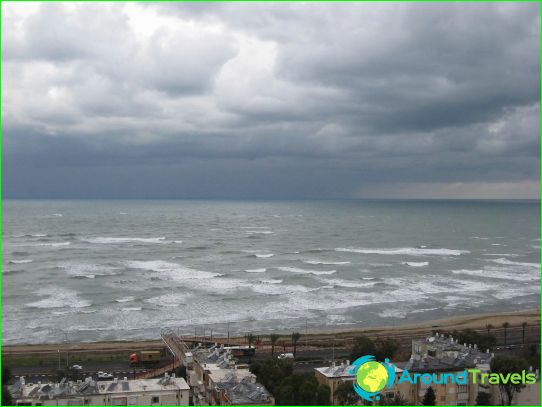 The Israeli winter is soft. In February, at any time of the day in Israel holds zero temperature. The only exceptions are the mountainous areas.
Weather in February
From November to March, the country's rainy season lasts. January is the month, which accounts for the peak rainfall. In February, the amount of precipitation decreases, but the differences are negligible. In this connection, umbrellas, rainwear and boots necessarily required.
The northern regions are the most cool and"Wet". In Haifa, Tiberias daytime temperature is + 15-16C, night + 9-11C. In February, it may be about 11 rainy days. In Nazareth, the temperature may be + 8-17C. Sometimes hurricanes that lead to frosts and snowfalls.
In Jerusalem, which is characterized by unusualtopography, is in a special microclimate. The city is located on a hill, so it is characterized by an abrupt change in the weather and a substantial run daily temperatures. Day temperature may be + 13-15C, a night + 6-8C. Tel Aviv, Netanya, Herzliya attract tourists pleasant weather: the temperature is + 8-19C, and the bright days are frequent and rainfall is significantly reduced.
Southern region is the driest and south. In Eilat can be only two cloudy days in February. Thermometer pleases the following indicators: + 22-23C (day), + 11C (at night).
Beach holidays in Israel
Only you can decide whether to include the rest inIsrael in February, staying on the beaches. However, be prepared for the fact that swimming would be difficult to decide. The water temperature in the Mediterranean coast is less than + 17C. In Netanya, Tel Aviv, Herzliya, this indicator per degree above, and on the Sea of ​​Galilee - one degree less. Eilat is ready to please the higher water temperatures, namely + 21C. It is important to note that the rising waves do not allow diving, but contribute to windsurfing. The Dead Sea is also capable of producing an invigorating effect, because its temperature is about + 18C.
Holidays and festivals in Israel
In February in Israel celebrate the New Year of Trees. This festival is celebrated in the 15th day of the month of Shevat on the Jewish calendar, so it falls on the beginning of February.
In Tel Aviv, held "Winter Wine Festival and crabs", during which you can taste the best seafood dishes and fine wines.
In Tel Aviv, also hosts the Festival of jazz music, perform on the same stage performers from around the world.
Israel - one of the best countries for those wishing to spend holiday rich in February.
Israel - promo video
Photos of rest in Israel