Holidays in Israel in November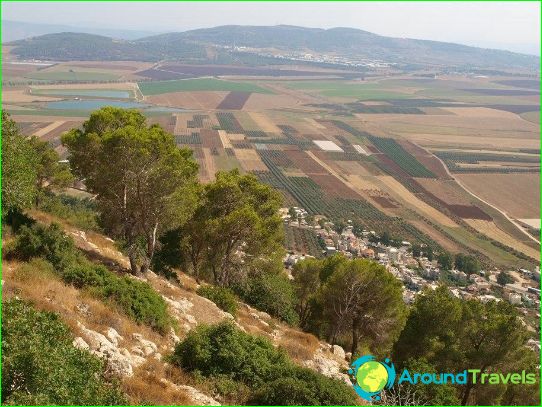 The majority of Russians in November associated withdamp, cold and cloudy. But there are countries where the weather this time of year is much more warm and joyful. And one of these states - Israel. November is, in fact, may be called a little cooler continuation of the holiday season. People accustomed to a cooler climate, are quite comfortable to spend time on the beaches. However, it should be noted that about eight days of November here - rainy. In general, rainfall is on the Mediterranean coast, but here and there, too, can be damp in the center of the country.
Specificity visit to Israel in November
It is worth noting that the weather in many traditionalpilgrimage sites in Israel can be quite rainy, especially it concerns Jerusalem. However, this should not be a barrier to visiting tours. Just be prepared in advance, in particular - to buy specifically for the trip a good pair of shoes, waterproof and durable. This is important for the reason that in the course of these excursions will have quite a lot of travel by foot on the stony ancient streets.
By the way, I must say that it is in Novemberone of the most comfortable months to visit the holy places of Israel. Firstly, some moisture is much easier to transfer than heat, characteristic of the region throughout the summer and early autumn. Second, at this time here still do not have time to descend pilgrims seeking to enter the Holy Land for Christmas.
Shopping in Israel
Of course, this ancient country is famous not onlytheir religious past. Saturated vacation in Israel in November simply must include shopping. It is in this period then carried out a huge amount of sales. With very significant discount, you can buy the following products:
garments and accessories made of genuine leather;
all kinds of things of quality knitwear;
players, phones and other gadgets;
authentic cosmetics on the basis of salt and mud from the Dead Sea.
Incidentally, with regard to the last point: you can not only buy creams and masks for home use, but also to pass on the banks of the pond of the famous professional wellness course spa beauty therapy. November this is just the thing: on the shores of the Dead Sea is set very comfortable temperature: 25-27 degrees during the day, 18-21 at night, and the water temperature is 25 degrees on average, which is perfect for swimming.
Israel - promo video
Photos of rest in Israel