Holidays in Israel in September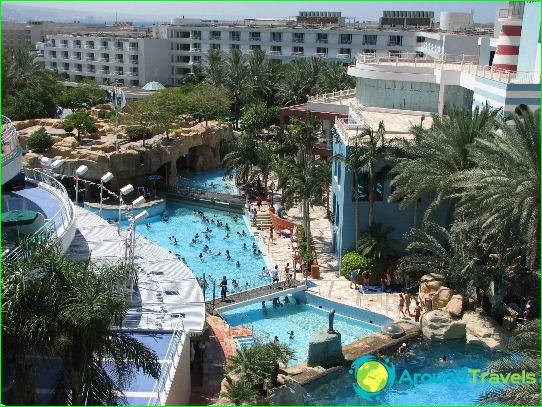 In September, Israel established comfortable weather, allowing to fully enjoy your vacation. However, in order to plan a tourist trip, it is important to know the weather conditions.
Weather in Israel in September
First of all, it must be remembered thatthe temperature remains high. In Eilat the day it is + 32 ... 34C, at night - + 25C. At the Dead Sea resorts maximum temperature is + 34C. On the Mediterranean resorts and in the air Tel Aviv may warm up to 30 degrees. In Haifa, Tiberius temperature is already reduced because it is + 27C.
Everyone can enjoy a dip in the sea. Water in the Red Sea yet cools and its temperature is about 27 degrees. Water in the Mediterranean also continues to enjoy a warm, because its temperature reaches 28 degrees. The Dead Sea is the warm, everyone can enjoy the water temperature of 32 degrees.
In September reigns sunny weather. Despite this, in mountain areas and in the western seashore can be 1 - 2 rainy day. Fear desert storms do not need to, because their risk of rapidly declining. These weather conditions are favorable for recreation.
Festivals in Israel in September
You want to stay in Israel in September was remembered for a long time? In this case, you need to take care of their cultural activities. So, what festivals are interested in?
In the Old City of Jerusalem is traditionally heldKnight Festival. Anyone can take part in activities other than unusual script. Entrance to most events is free. You can see a big battle for the ancient castle, street fights frozen knights, participate in search of lost treasures in the victory parade, visit the knight's feast, learn the legends. This pastime will give vivid impressions.
In Jerusalem Wine Festival is held every year, which involves numerous wineries. Everyone can taste delicious drinks and get acquainted with the museum expositions.
In Jerusalem, the musicians from different countries of the world come to the festival of sacred music. Events are held in places that have an important religious, spiritual and historical value.
Enjoy your stay in Israel, because in September it favors!
Israel - promo video
Photos of rest in Israel