Israeli Wines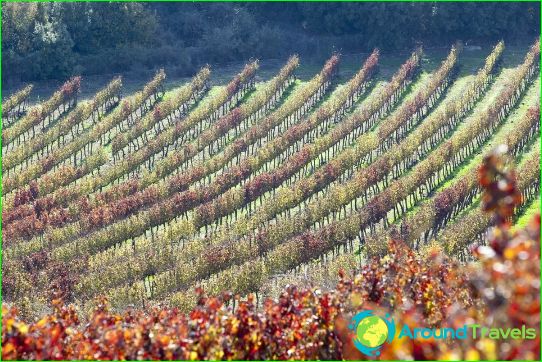 Historians rightly believe thatWinemaking in the Land of Israel began at least five thousand years ago. Confirmation of this - numerous archeological findings suggesting that the inhabitants of the Promised Land in ancient fruit has grown grapes and wines prepared from them. Modern wine-making tradition in the country has more than a century, but the Israeli wine has taken a worthy place in the local market and abroad.
Grades and figures
Total in modern Israelthere are more than two hundred wineries, most of which - the small, family. In this case the lion's share of production accounted for dozens of enterprises which poured wine for export. Chance to try the products of family wineries there are those who go on a wine tour of Israel. During the trip, guests get acquainted with the technology of cultivation and production of fruit wine of Israel, learn the secrets of the preparation of kosher products.
Among the most popular varieties of Israeligrapes both local and international. In regions and Zichron Yaakov Shimshon grown Muscat and Riesling Argaman. The remaining area of ​​cultivation of grapes prefer Sauvignon Blanc, Chenin Blanc and Emerald Riesling Argaman.
Special rules of kosher wine
Israel - the country special. Those who profess Judaism should eat only those foods that are cooked according to the rules of kashrut. Kosher food and wine of Israel do not contradict the canons of Orthodox Judaism, and, therefore, in their manufacture, observe the following tradition:
The vineyard, which gives the fruit to the wine must be at least four years.
He should be given a rest every seven years.
Once the berries arrive at the winery, they can only deal with those winemakers who observe the Sabbath and other rules prescribed kashrut.
Production of these wines requires a kosher materials.
Kosher wines are important in the economycountries. Only this drink can afford orthodox Jew, but because production of kosher wineries are in special demand in the country and around the world.
Monasteries and Wine
One of the most popular wine tours in IsraelIt includes visits to several monasteries, which are prepared according to old recipes of wine. A special place between Jerusalem and Tel Aviv - Latrun Monastery. He founded the monastic order of Trappist molchalnikov, and during Napoleon's company brought the first vines here. Since then, Israeli wines, many associated with wines Latrun.
Photo